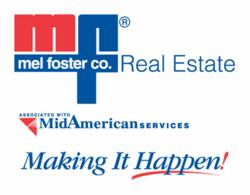 Quad Cities Iowa and Illinois (PRWEB) March 01, 2012
Mel Foster Co. Inc. is pleased to announce that their Relocation Division has been nominated by Leading Real Estate Companies of the World® for two 2011 Awards. Mel Foster Co. is one of five real estate companies nominated for these awards in their size category. The two nominations include

Award of Excellence for Outgoing Referral Production – determined by the number of outgoing referrals
Award of Excellence for Outgoing Sales Production – determined by the number of outgoing closings
The awards will be presented during the Annual Performance Awards Dinner and Ceremony in Orlando later this month. For the past 17 years, Mel Foster Co.'s Relocation Division has been nominated for an award from Leading Real Estate Companies of the World®.
Leading Real Estate Companies of the World® is a global network of 550 premier real estate firms. Leading RE is comprised of select independent real estate companies who set the standard of quality service, while generating a highest volume of referral, relocation, and real estate business opportunities for its members. Mel Foster Co. has been with the prestigious affiliation for almost 20 years.
Collectively, LeadingRE has sold 800,000 homes worth $225 billion last year. The Leading Real Estate Companies of the World® dominates the U.S. list of top 500 Real Estate firms, with more of the number one market leaders in the top 96 markets than any national brand.
Founded in 1921, Mel Foster Co. is a Real Estate Leader of Eastern Iowa and Western Illinois serving Davenport, Bettendorf, Moline, Rock Island and the surrounding Quad City area, and it is one of Iowa's largest independently owned real estate company. The company specializes in Quad Cities Relocation, residential sales and offers services in insurance, commercial, farm and land sales, land development, relocation, career development, and new construction. Visit their website at http://www.melfosterco.com for more information.
###