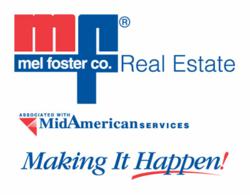 Davenport, IA (PRWEB) August 27, 2012
Would you like to be a part of a dedicated, vibrant and growing real estate family that has ten offices in two states with more than 225 agents strong? A career in real estate provides flexibility and freedom to set your own pace and control your own income.
Join Mel Foster Co. on Wednesday, August 28th from 7pm-8:30pm at their training center located at 3249 East 35th Street Court, Davenport, Iowa, as they host a complimentary seminar. The focus will be on selling real estate in eastern Iowa and western Illinois, including current market conditions, how to get started, licensing requirements, how to achieve unlimited earning potential, and advanced career growth. Learn how you can reap the rewards of working for a company dedicated to your success.
Join us and discover the Mel Foster difference! For reservations or further information contact Renee Skillett at 563.823.2289 or rskillett(at)melfosterco(dot)com or visit us at http://www.joinmelfosterco.com . Become a part of the Mel Foster Co. team!