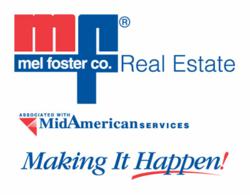 We're pleased to recognize our members for their exceptional service to clients with their real estate needs across the globe
Quad Cities IA/IL (PRWEB) April 03, 2012
Mel Foster Co. Inc. has been recognized as a 2011 Top Referral Production Honoree by Leading Real Estate Companies of the World®. This recognition is presented to those member firms that provided exemplary service in 2011 to clients who were relocating, purchasing or selling properties in other parts of the world by making introductions to top real estate professionals, thereby achieving high outgoing referral performance.
"We're pleased to recognize our members for their exceptional service to clients with their real estate needs across the globe," said LeadingRE President/CEO Pam O'Connor.
"Congratulations to our Relocation Department for this honor. They continue to exemplify the hard work, dedication, and the strength of excellence in our customer service skills," commented Mel Foster Co. Director of Corporate Marketing Kris Ratigan.
Mel Foster Co. is the only local representative of Leading Real Estate Companies of the World®, the largest network of over 550 premier locally-branded firms producing $225 billion in annual home sales. Mel Foster co. was selected for membership in Leading RE, which recruits only the best among locally-and-regionally-branded firms. As a member of this global network, Mel Foster Co. can assist home buyers and sellers worldwide and can access Leading RE's full range of brokerage services, including lead generation, branding support, luxury marketing, web exposure, technology systems, and state of the art learning and credentialing.
For more information on Mel Foster Co., Quad Cities Real Estate Leader, please visit http://www.melfosterco.com or call 1-800-367-1134.