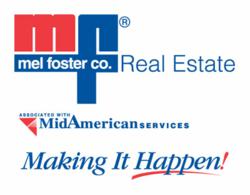 We are always striving to enhance the experience for our website users.
Quad Cities IA/IL (PRWEB) July 19, 2012
Mel Foster Co. has enhanced their website, http://www.melfosterco.com, showcasing new features and updating the property detail pages for a modern and sophisticated look.
The site added Neighborhood Navigator, a local information-rich application provided by Onboard Informatics. This new tool helps consumers locate their ideal communities and properties based on type of neighborhood and proximity to entertainment/dining, the arts, shops/services, transportation, and schools.
Expanded property detail pages now include school information, community information, real-time market statistics, and area amenities. Community overviews feature local market statistics, local area demographics and cost of living comparisons.
Kris Ratigan, Director of Corporate Marketing at Mel Foster Co. said, "We are always striving to enhance the experience for our website users. Now, being able to provide community and neighborhood information along with cost of living comparisons and area demographics we are providing information to help our users make decisions that fit their family and lifestyle. It's just one more way the Mel Foster Co. is Making It Happen!"
"Too often buyers think they've found a great home only to realize the neighborhood or nearby schools don't match their needs," said Scott Petronis, Chief Product Officer of Onboard Informatics. "Mel Foster Co.'s addition of Neighborhood Navigator delivers on those pressing needs right alongside the listings they're browsing to save buyers' time and energy."
Go to melfosterco.com and start your search today!
About Mel Foster Co.
Founded in 1921, Mel Foster Co. is a Real Estate Leader of Eastern Iowa and Western Illinois serving Davenport, Bettendorf, Moline, Rock Island and the surrounding Quad City area, and it is one of Iowa's largest independently owned real estate company. The company specializes in residential sales and offers services in insurance, commercial, farm and land sales, land development, relocation, career development, and new construction. Visit their website at melfosterco.com for more information.
About Onboard Informatics
Onboard Informatics connects leaders in the real estate, publishing, and technology industries to data-driven innovations that empower informed decisions, enable human engagement and accelerate business results. We use our expertise in data management as a springboard to bring data to life – creating innovative products that help customers (1) understand what's happening – in local markets, on the web, with their own listings; (2) talk about it and show it to others; (3) manage their business more effectively and (4) get better business results.