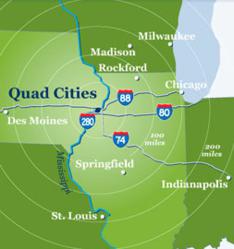 The leadership in the Quad Cities understands the importance of working together and is committed to making things happen
Quad Cities Illinois/Iowa (PRWEB) February 23, 2012
The Quad Cities Chamber of Commerce is pleased to announce that Bill Martin of Harlingen, Texas, has been named the Chamber's senior vice president of economic development and president of Quad Cities First. Martin, who will begin his new role at the Chamber in March, is currently CEO of the Harlingen, Texas, Economic Development Corporation (HEDC).
Quad Cities First is the arm of the Chamber that markets and sells the advantages of doing business in the Quad Cities to company executives and site location consultants from outside the bi-state region. Martin will combine his role as president of Quad Cities First with the complementary responsibilities of leading the Chamber's existing-business expansion strategy.
"During the past two years, the Chamber's economic development team has assisted both new and existing Quad Cities companies with creating over $360 million in local investment," said Tara Barney, Quad Cities Chamber of Commerce CEO. "The Quad-Cities region has reinvented its approach to economic development by working collaboratively through public-private partnerships, actively seeking leads from local business leaders as well as those outside of our market, and growing companies from within our community. Now is the time to build upon that new foundation. Bill Martin is an accomplished professional, ready to lead our economic development efforts into a new phase of progress."
Martin was selected for the Chamber role following a nationwide search.
During his 35-year career, Martin, a Kansas native, assisted companies with creating over 25,000 new jobs and $7 billion in new investment. Among the firms assisted were Becton-Dickinson, Hallmark Cards, Goodyear, Sallie Mae, Mallinckrodt, Davol (C.R. Bard), National Computer Systems, Sprint, CAE, Bechtel, Ferguson Enterprises, Lockheed Martin and UnitedHealth Group. Martin has also worked with government agencies such as the Department of Defense, Department of Energy and Veterans Administration on new facilities.
In Harlingen alone, the HEDC assisted in the attraction of $350 million in new investment and 4,850 jobs with Martin at the helm.
"The Quad Cities is well-positioned for job creation, just as Harlingen was just a few years ago," said Martin. "The leadership in the Quad Cities understands the importance of working together and is committed to making things happen," Martin concluded.
(end)
The Quad Cities Chamber of Commerce represents a four-county region in western Illinois and eastern Iowa. Located 2.5 hours directly west of Chicago, the Quad Cities population is approximately 375,000.
###