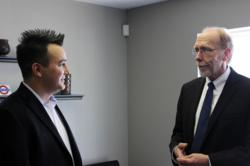 I really appreciated the opportunity to meet Mr. Leobsack. I felt like he really listened to my concerns and answered my questions in an honest, intelligent way
Quad Cities Iowa (PRWEB) April 25, 2012
The Terrostar and Medix Dental staff was proud to be on the agenda of U.S. Congressman, Dave Loebsack's, small business tour. Mr. Loebsack met with Terrostar and Medix Dental President and Owner, Tom Terronez; Director of Client Relations for Terrostar, Chris Glass; and Medix Dental Business Development Engineer, Eric Jess.
Together with representatives from the Quad Cities Chamber and the Greater Quad City Hispanic Chamber of Commerce, he toured both offices and met each employee. Following the tour, Congressman Loebsack sat down with Tom, Chris and Eric to discuss their concerns and ideas about the impact small businesses have on the local and regional economy. "I really appreciated the opportunity to meet Mr. Loebsack. I felt like he really listened to my concerns and answered my questions in an honest, intelligent way," said Tom Terronez.
Congressman Loebsack is serving his third term and represents Iowa's Second Congressional District, which includes most of Eastern and Southern Iowa. He is a determined advocate for Iowans and is deeply committed to supporting small business and growing the middle class.
About Terrostar
Terrostar is a Quad Cities web design and internet marketing firm formed in 1999. Core services include Custom Website Design, Mobile Application Development (iOS and Android), eCommerce and Web Application Development, Internet Marketing and Search Engine Optimization, as well as High Performance Hosting. For additional information, please visit http://www.terrostar.com
About Medix Dental
Medix Dental provides digital technology integration and tailored support for dental practices. Formed in 2003, Medix Dental has grown from supporting practices around Iowa to supporting practices over 10 states. For additional information, please visit http://www.medixdental.com