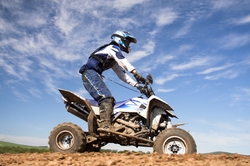 (Vocus) July 2, 2008
Quad biking is growing in popularity. It combines the exhilarating, high-adrenalin rush of extreme sports with a fantastic way to experience the countryside both on- and off-road. Prices of quad bikes and coming down putting them within reach of more and more people, but insurance on these machines does tend to be expensive and riders can end up paying over the top unless they consult a specialist insurance broker.
Bikesure, is an established expert in the field of motorbike insurance and has launched a dedicated section – Quadsure to look after quad insurance. Bikesure has access to a wide variety of quad bike insurance schemes that can be tailored to suit each individual quad biker and each individual quad bike.
Quadsure covers leisure quads, sports quads, utility quads, ATV and buggy models. As a specialist broker Quadsure can offer cheap quad insurance whether the quad is used for off-road adventuring, farm working or trail riding. Even bikers with zero no-claims bonus, motoring convictions or criminal convictions can be offered competitive quotes.
All policies offer £50,000 of legal cover free of charge, but there are also low-cost options of personal injury cover, comprehensive breakdown cover with home-start and protective clothing and helmet insurance. Quads that are used solely for off-road riding can be covered against fire and theft.
As with other Bikesure insurance policies, Quadsure can offer extra discounts for security precautions and riding experience. Female quad bikers also qualify for extra discount.
Quadsure has an online quote and buy system that displays several available quotes for customers to choose from, however, most people will get the best deal if they ring Quadsure and speak to one of their highly trained underwriters. As specialists within the quad bike insurance industry they can apply a whole range of extra discounts that may not show up on the computer system.
Bikesure is 100% British owned and based. It has a huge range of specialist policies for the motorcycle enthusiast, including cheap bike insurance schemes for performance and custom bikes, scooters, trikes, quads and bug riders. For details freephone the Bikesure quote line on 0800 089 2000, email the company at bikesure @ adrianflux.co.uk or visit http://www.bikesure.co.uk
Press Enquiries:
Toni Turner or Alison Haynes at The Publicity Works
Tel: 01263 761000 Email: bikesure @ publicityworks.biz
Robert Balls at Bikesure Insurance: 08700 771377
Press information, digital files, photos etc., available on request from bikesure @ publicityworks.biz
###