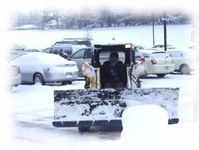 we recognize the importance of having a clear lot when you come to work in the morning - Jimmy Holt, President
Davenport, IA (PRWEB) September 25, 2010
The Quad Cities of Iowa and Illinois suffer from routine snowstorms in the winter months, and the team at All Around Town has raised the bar on the level of service in this area to include 24 hour snow removal. The professionals at All Around Town are ready and willing to sacrifice some sleep to ensure the safety and convenience of their clients.
For those outside the area, the Quad Cities are the cities of Davenport IA, Bettendorf IA, Moline IL, and Rock Island IL, found along the border at the South-East corner of the state of Iowa.
All Around Town's team members are willing to work demanding schedules around the clock in the winter months to keep customers safe, and they also have an independently audited fleet of state of the art GPS enabled snow removal vehicles.
Jimmy Holt of All Around Town Outdoor Services tells us, "Being in the industry for over 10 years, our organization is well equipped and well prepared to meet the match and demand of any snow storm. Having over 25 pieces of equipment to service the area, we recognize the importance of having a clear lot when you come to work in the morning."
All Around Town has been providing lawn mowing, landscaping, and snow removal services to residents of the Quad Cities since 2001. This business is seasonal and has seen rapid growth through the years by adapting to customers needs and focusing on providing the maximum value to customers.
You can reach All Around Town by calling them at (877) 612-2867, or using their local number (563) 324-6450 to schedule services, including 24x7 snow removal, lawn care and landscaping related services.
Contact:
Jimmy Holt, President
(877) 612-2867
http://www.allaroundtownservices.com/
###