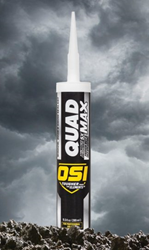 Proven Wet Surface ApplicationBetter Flexibility: 5x Stretch & 50% Joint Movement
Issaquah, WA (PRWEB) September 29, 2014
TheHardwareCity.com now stocks the newly patented professional window, door and siding sealant, OSI Quad Max in white. The online home improvement store makes high quality professional products available to all at discounted prices.
The new OSI Quad Max Sealant offers high flexibility, up to 5x stretch capabilities, and 50% joint movement. This means the sealant will do its job even after the continual contraction and expansion of construction materials. The product's performance exceeds other sealant products even in extreme weather, like intense heat, freezing temperatures, strong winds, rain, and snow. The material can be applied in conditions that were previously impossible, like wet and cold conditions.
The air and moisture barrier provides a fast and lasting application. The white sealant product can be paintedjust one hour after application and after 24 hours, it will be fully cured. OSI Quad Max Sealant will strongly adhere to many building materials without the use of primer, including stucco, EIFS, brick, vinyl, fiber cement, PVC trim, stone, fiberglass, wood, glass, and even flashing tapes. With built in UV resistance, the sealant will not suffer from discoloration, cracking, or chalking. It will also maintain aesthetics due to its dirt- and dust-resistant properties.
Customers of TheHardwareCity.com receive a big discount off the original retail price.
About TheHardwareCity.com:
TheHardwareCity.com has grown every year since the online hardware store's opening in 2007. Offering the latest in improvement products, the professionals at the company's instant online chat are available to answer any questions concerning tools and materials. With an extensive catalog, the online boutique is one of the largest. Shoppers can find products in every home improvement department including paint, hand tools, building supplies, electrical, plumbing, heating supplies, and lawn and garden. Browse the store at http://www.thehardwarecity.com/