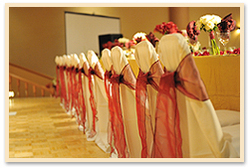 Since it is frequently less expensive – often up to 50% less – to book space during 'off days,' – we see a great deal of receptiveness to Friday and Sunday receptions instead.
Davenport, IA (Vocus) May 3, 2010
The current economic downturn has subdued many normally elaborate, costly pastimes. Families are taking shorter, less involved vacations closer to home, businesses are tightening conference and travel expenses; and people have grown more comfortable using generic equivalents to the fancier brands of foods and beverages they had previously consumed.
But what about weddings? Has wedding spending decreased in recent years at the pace of other lifestyle cutbacks? Or do today's couples, eagerly planning their upcoming nuptials, refuse to skimp on what will hopefully be a once-in-a-lifetime event?
"Actually, both," insists Jessica Webb, Catering Manager for the Clarion Quad City Hotel and Conference Center in Davenport, Iowa. "By the time a couple has reached the point where they are reserving reception space, they've decided that they are willing to spend whatever reasonable amount is necessary to have the reception of their dreams. What we are seeing, however, is many couples are waiting longer to get married so that they have the resources to do things right."
Webb is quick to point out that while blatant reception cutbacks are rare, she often sees savvy couples employing clever shortcuts that help shrink their bottom line, but go virtually undetected by guests.
Some of the noteworthy and/or recurring things the Clarion Hotel has seen over the past couple of years include:

Off-day Bookings: "Most couples originally look at having a Saturday wedding and reception, but with more weddings vying for the same Quad City banquet space, prices go up," advises Webb. "Since it is frequently less expensive – often up to 50% less – to book space during 'off days,' – we see a great deal of receptiveness to Friday and Sunday receptions instead."
Dwindling Reception Numbers: "In the past, a typical 'big' reception at the Clarion might have consisted of 300 or more people," remembers Webb. "These days, however, we're seeing numbers closer to 150. Couples tell me that they don't want to compromise the quality of the reception, so their next key consideration to keeping costs down is to tighten the guest list." Often children are included in the first wave of cut, followed by out-of-touch friends and distant relatives.
Flower Power: Large, florist-arranged flower arrangements can be beautiful but expensive. "We see brides use less expensive but no less colorful and interesting alternatives," says Webb. "Smaller flower arrangements, dried flowers, candles and mirrors offer interesting, beautiful alternatives that don't need to break the budget."
Centerpiece, the Sequel: "Borrowed centerpieces from married friends' previous Quad City weddings represent an excellent way to save money," Webb continues. "Most people save such items from their weddings, keep them preserved in perfect shape, and are more than happy to loan them out for one night."
Handling Their Own Catering: "Because we have an extensive catering operation in house, I'm sorry to say that sometimes we lose opportunities to host wedding receptions to standalone banquet halls," laments Webb. "To save money, sometimes the couple wants to have a friend with a restaurant connection handle the catering arrangements for them."
One interesting observation – at least at the Clarion Hotel – is that there has been very little change in the types of alcohol arrangements seen at their wedding receptions. "In the seven years I've been here, the most popular reception arrangement has been for the couple to pay for keg beer and soda pop, with a cash bar available for guests wanting anything more elaborate," says Webb. "This is still the case, even today."
One thing Webb hasn't seen much of – even though it seems to be a popular trend in some parts of the country – is incorporating recycled wedding dresses into weddings. "Most of the brides I work with definitely want to select and wear that "dress of their dreams," one they can always call their own. Using somebody else's dress simply to cut down on their wedding costs simply isn't a viable option for them."
Each wedding celebration is as different as the bride, groom and families involved. Though the recent economic downturn might have spurred belt tightening here and there, some things look like they will never change – like creating the perfect wedding, even if it takes some added creative measures to do so in these tough economic times.
If you would like more information about this topic, or to view more about the Clarion Hotel you can log on to their website at http://www.clarionhoteldav.com This article was developed and submitted by Localize It, a Columbus OH SEO company.
###