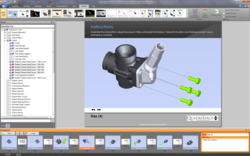 This cutting-edge upgrade to Publisher3D, combines the simplicity of our entry-level product with the professional tools needed to create 3D PDF-based instructions and catalogs.
Allen, Texas (PRWEB) November 30, 2011
QuadriSpace™announces the immediate availability of Publisher3D™ 2011 Service Pack 2 for creating illustrations, animations and 3D PDF documents from 3D models. This new release boasts a new integrated, template-based 3D PDF publishing capability and an improved user interface. New templates, included in SP2, can be used to create 3D PDF documents with clickable parts lists or interactive step-by-step instructions. A free trial version is available for download online.
Publisher3D's redesigned publish ribbon makes it simple to choose whether to publish a project as images, animations, Word documents or 3D PDF documents. New in SP2 is the ability to publish 3D PDF documents from templates. Over 70 powerful templates are included and all templates can be previewed prior to publishing. Templates range from simple page designs that include a single, full-page view of the 3D model to templates designed for step-by-step instructions or clickable parts lists. Each template is carefully designed to maximize the effectiveness of communication for the intended use. Template images and text can be user defined.
The full multi-publish environment of Publisher3D allows user created views of 3D models to be used for a variety of deliverables and offers users the flexibility to create:

Standard graphics for inclusion in documents
Industry standard animations for presentations and work instructions
3D PDF for fully interactive sharing of 3D information
"This cutting-edge upgrade to Publisher3D, combines the simplicity of our entry-level product with the professional tools needed to create 3D PDF-based instructions and catalogs," stated Brian Roberts, President, "The creation of 3D PDF files for manufacturing uses has never been easier."
Publisher3D Standard provides a natural upgrade for existing Share3D™ PDF users. Publisher3D Standard extends the feature set of the popular Share3D PDF product to include mutiple publish options, a customizable user interface, templates with clickable parts lists, step-by-step instructions, customizable render styles, customizable materials, precision viewpoint tools, model reduction tools for smaller 3D PDF files, and 20+ additional templates. 3D PDF templates that include clickable parts lists can display part meta-data on-page as parts are selected in the list or 3D view. Step-by-step instructions can be published to 3D PDF and will display a detailed instruction on the page as the individual step's animation is displayed.
The Professional Edition of Publisher3D adds the ability to create technical illustrations in vector graphics format. Also, Professional users gain access to powerful, time-saving features like Smart Template Technology™, Configurations for large model management, vector graphic publishing and Automatic Updates when the original 3D CAD source is modified.
About QuadriSpace Corporation
QuadriSpace Corporation (http://www.quadrispace.com), founded in 2001, delivers premier Product Communication and Documentation solutions using its patented technology (U.S. Patent # 7,068,269). Our software solutions enhance productivity by enabling 3D CAD and associated data reuse throughout the business process. The easy-to-use suite of products minimizes the time to market and documentation costs. QuadriSpace products serve a broad, international user base of design, manufacturing, marketing and technical publication professionals.
###