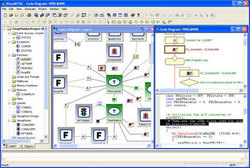 Houston, TX (PRWEB) June 17, 2008
Quadros Systems, Inc., a leading supplier of configurable and scalable real-time operating systems (RTOS), today announced the immediate availability of Version 2.0 of the VisualRTXC design tool. VisualRTXC is an easy-to-use development tool that allows application engineers to graphically design embedded applications and then generate full C code.
Designed for project managers and system developers who use the RTXC™ Quadros RTOS, VisualRTXC Version 2.0 can deliver significant schedule improvements as well as increased productivity and higher quality. Even development teams that have limited or no experience with RTOS-based application development can do in hours what often takes days. VisualRTXC neatly fits into any software development methodology--from highly structured product development processes to ad hoc environments. It employs dataflow diagrams and flowcharts which should be familiar to any software developer.
Components - code reuse and sharing:
Foremost among the many new features of VisualRTXC Version 2.0 is the ability for developers to define reusable and shareable subsets of the system called Components. A Component can be any user-defined part of a design, from a task to a complete board support package or application subsystem. It includes the graphical representation of the high level design, the associated detailed design flowcharts and all C source code. Components can be imported, exported, edited, and shared across the development team. This saves development time and allows for distributed development, with team members able to work on sections of the system and easily import them into the master project.
Round Trip Engineering - integrate code changes back into the tool:
As with any tool that generates application code, developers may want to make manual modifications to generated code during the subsequent debug cycle. Now, with the release of version 2.0, VisualRTXC provides a Reverse Engineering capability to return that modified C code with full graphical consistency.
Additional Features - powerful features deliver ease of use and greater functionality:
VisualRTXC Version 2.0 features several new functional additions and enhanced capabilities, including:

A new Navigation Mode that provides more flexibility for the visualization of graphical elements by making the navigation through multiple diagrams quicker and easier.
The flexible code editor and fully synchronized windows make it easier to locate objects and navigate through diagrams.
All project files, whether graphical or textual, can be output to the system printer or to files.
Fully integrated help files cover all aspects of VisualRTXC usage.
An extended evaluation period allows full use and evaluation of the tool for 30 days.
How It Works - from high level design to detailed code in a unified package:
Using the powerful graphical editor the developer can drag and drop icons to create dataflow diagrams of code processes (task, thread, ISR, function, etc.), including the RTXC kernel objects and the RTXC kernel services that connect them. The built-in intelligence of the tool presents only the RTXC kernel services appropriate for the object class of the connection.
Simultaneously with the creation of the dataflow diagram, VisualRTXC creates a flowchart template for each code process and its kernel service connections identified in the dataflow diagram. The engineer can add new flowchart elements, including C language statements (for, while, if, etc.) and application-specific sequence blocks, to reflect the detailed design of the code entity.
The result is a flowchart that represents the detailed design. When new connections are added to the dataflow diagram, the connection symbols are added simultaneously to the flowchart. Through the interactive process of defining the software architecture and the detailed design, the engineer quickly and easily produces the elements needed for code generation.
Unlike other tools that support parts of the development process, VisualRTXC is a completely unified environment. The code always represents the flowchart, and the flowchart always represents the software architecture. Code generation is an integral part of the tool and automatically and consistently parallels flowchart development. Once the engineer determines that the code is ready, a simple mouse click instructs VisualRTXC to output the code files for compilation.
Availability:
VisualRTXC Version 2 is available immediately. The design tool is licensed on a per-seat basis with two convenient options: 1) Node-locked to a computer work station or 2) A USB dongle for the engineer on the go. Multi-seat licenses are also available. To obtain more information about VisualRTXC please visit http://www.quadros.com/visualrtxc.
About Quadros Systems, Inc.:
Quadros Systems, Inc. develops and markets RTXC technology, bringing together RTOS, hardware and software professionals into one development team to provide innovative technology that maximizes real-time responsiveness and eases the development process for customers. In addition to the RTXC RTOS family, Quadros Systems offers a wide range of communications options and middleware, including Quadnet and RTXC Quark TCP/IP stacks, RTXCusb (RTOS-agnostic USB stacks and drivers), and RTXCflashfile (a high performance file system for resident flash devices). RTXC products have been deployed worldwide in millions of embedded systems, serving markets such as communications, medical, and industrial automation. For more information, contact Quadros Systems, Inc. at 832-351-2830, Quadros Systems Europe at +49 (0) 8807-94350 or visit http://www.quadros.com.
RTXC, Quadros, Quadnet, Quark TCP/IP, RTXCusb, RTXCflashfile, and VisualRTXC are trademarks of Quadros Systems, Inc.
All other tradenames and trademarks are the property of their respective owners.
© 2008 Quadros Systems, Inc., all rights reserved.
###