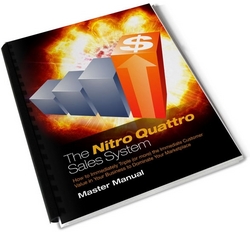 There's a right and wrong, good and bad way to do this
Dallas, TX (PRWEB) August 21, 2008
In this age of crazy gas prices and soaring cost-of-living, Nitro Marketing LLC, has introduced a controversial - yet highly effective - way to maximize profits for business owners without any additional costs.
This company just revealed its breakthrough 4-step 'Quattro' formula during a live interview with marketing guru Eben Pagan. Nitro Quattro Sales System was conceptualized and developed with the sole mission of providing step-by-step instruction to any online entrepreneur - regardless current experience or success level - to double or even quadruple profit per sale in the face of rising expenses.
Most business owners scale back when the economy is in a "depressed" or "recessed" state. Yet, several experts on marketing - including Kevin Wilke co-founder of Nitro -believe that's actually the exact opposite of what they should be doing.
Even those that don't make that crucial mistake are still losing out on significant amounts of cash in each and every sale they make. And yet others - those that understand the value of "cross" and "back-end" selling - are still not experiencing the full benefits of those methods.
"There's a right and wrong, good and bad way to do this," Wilke says. "Unfortunately, most people are using the wrong or 'bad' way and screwing it all up."
Perhaps the most powerful part of this formula is what Kevin refers to as "I.M.U." or "Immediate Multiple Upsell".
He states, "The huge marketing myth everyone swears by is that backend sales are made to your customers only months, sometimes years after the initial sale. It's not true, and the speed and power of the internet enables you to compress your marketing cycle."
Thus, one major element of the 'Quattro' formula is created to generate backend sales immediately after the initial sale, which Nitro claims to have more than quadrupled business seemingly overnight for themselves and other business owners who attended their recent LIVE 'Quattro' training event. In fact, according to Wilke, one of those attendees credits the 'Quattro' process with helping him make changes to his existing web sites and sales processes that resulted in an extra $6700 in profits a day - or $2M more a year - without any additional marketing or advertising costs.
To learn more about 'Quattro' and how to take any online business to a million dollar level without any extra costs or additional traffic, take advantage of the Free Nitro 'Quattro' Training Video.
About Nitro Marketing LLC and the Nitro Quattro Sales System:
Nitro Marketing has been a leading internet marketing company since 1999 and provides powerful training to build a business and wealth over the internet for people of all experience levels.
###