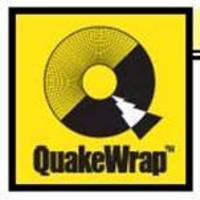 Method of Strengthening Masonry and Concrete Walls with Composite Strap and High Strength Random Fibers.
Tucson, Arizona (PRWEB) March 17, 2008
QuakeWrap, Inc. announces BlastWrap™, an innovative solution for blast protection of buildings. The product is less than 1/8-inch thick and can be applied quickly and as easily as wallpaper. Government laboratory test results clearly confirm the effectiveness of BlastWrap™.
Recent terrorism activities worldwide offer unique challenges for protecting buildings against damage caused by blast. The majority of these structures were not originally designed to resist such forces and require retrofit.
To demonstrate the effectiveness of the product, two identical unreinforced block walls were tested. One of the walls was retrofitted by applying BlastWrap™ to both faces; the other was unretrofitted and served as control object. A blast load equivalent to 200 pounds of TNT was detonated at a distance of 30-ft from the walls. The blast caused a pressure of 200 psi (pounds per square inch) on both walls. The retrofitted wall vibrated and displaced about 9 inches at mid-height before resting at its original position. The wall remained intact and no debris was produced.
"To put this extremely large force in perspective, we need to be reminded that many building floors are designed to resist a pressure of 40 pounds per square foot. The blast loading of 200 psi that was imposed on the tested wall is more than 700 times higher than that," said Mo Ehsani, a Professor of Civil Engineering at the University of Arizona who has developed this system.
The pressure inside the retrofitted room reached only 4 psi. It's important to remember that ear drum rupture and lung collapse occur at approximately 5 and 10 psi, respectively. Ehsani added "This clearly demonstrates that the occupants of the retrofitted room would have survived this blast with minor discomfort."
A video of the blast test is available on the company's website: http://www.QuakeWrap.com/Blast-Retrofit.php
QuakeWrap, Inc. specializes in repair and retrofit of structures with Fiber Reinforced Polymer (FRP) products. They are applied to the building like wallpaper. The BlastWrap™ system is being designed for installation in several buildings and underground mines. The company holds a U.S. Patent (No. 5,640,825) entitled "Method of Strengthening Masonry and Concrete Walls with Composite Strap and High Strength Random Fibers."
For additional information on the BlastWrap™ system, contact Professor Mo Ehsani or visit http://www.QuakeWrap.com.
Mo Ehsani, Ph.D., P.E., S.E. President, QuakeWrap, Inc. and Professor of Civil Engineering, The University of Arizona
Office: (520) 791-7000
Mobile: (520) 250-7020
Fax :(520) 791-0600
Mo @ QuakeWrap.com
http://www.QuakeWrap.com
FRPs are used in structural strengthening as well as in protecting against moisture intrusion and corrosion. The system is made up of flexible fabrics composed of carbon or glass fibers that are saturated in the field with a resin. The fabric is applied much like wallpaper, reaching three times the strength of steel in 24 hours! Although the cost of the materials is relatively high, the ease and speed of installation almost always make FRPs a more economical alternative in retrofits and renovations.
A partial list of QuakeWrap's CFRP sucessfuly completed repair and strengthing projects includes:
- Seismic retrofit of the Anchorage AK Airport
- Tilt-up wall repair and retrofit Mitsubishi Corp, Compton CA
- Slab repair and retofit Trump Grande Condominiums, Miami FL
- Prestressed concretee cylinder pipe (PCCP) repair and retrofit,
Public Services of NM, Farmington NM
- Seismic retrofit Museum of Natural History, Los Angeles CA
QuakeWrap, Inc. was founded in 1994 by Dr. Mo Ehsani, an internationally recognized expert and researcher in the use of Carbon Fiber Reinforced Polymers (CFRPs) and a professor of structural engineering at the University of Arizona. Dr. Ehsani has been featured on CNN, The History Channel, National Public Radio, and in other media, including Engineering News Record (ENR) for his expertise on the strengthening of structures, particularly related to earthquakes, terrorist attacks and other potential structural disasters.
Media Contact:
Bob O'Brien
V.P. Marketing, QuakeWrap, Inc.
Office: (520) 791-7000
Fax:(520) 791-0600
Bob @ QuakeWrap.com
http://www.QuakeWrap.com
# # #