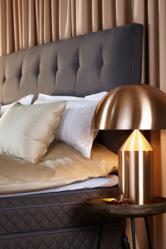 New York (PRWEB) May 23, 2013
Maintaining its commitment to improving life through better sleep, DUXIANA® today launches its Summer Health Campaign. Kicking off in the spirit of Better Sleep Month, DUXIANA is dedicated to offering a luxury bed for everyone and to providing a therapeutic sleep experience, helping to improve customers' overall health and well-being.
May is Better Sleep Month, a result of the call to action taken by the Better Sleep Council due to the Centers for Disease Control's confirmation that insufficient sleep is a public health epidemic. The Better Sleep Council's survey results conclude: "half of American adults admit they are sleep deprived. And the majority of those 157 million Americans aren't taking simple daily precautions to get better sleep – even though they know simple actions can lead to more restful nights."
A notable preventative measure of this "sleepocalypse" is the adoption of a comfortable, luxurious mattress and sleep space. Many Americans blame their age, health, being a night owl, and beyond for a lack of sleep for which their bed may actually to blame. Stop tossing and turning; it's time to replace your mattress.
DUXIANA is one of the highest quality bed manufacturers, producing the most comfortable and technologically advanced luxury beds. The DUX Difference is committed to improving life and health through better sleep, while using the finest materials and creating a durable, luxury bed that can last up to four times longer than other beds on the market. And, with DUX's Pascal Personal Comfort Zone System, interchangeable spring cassettes make it easy to tailor a quality mattress to individual preferences and needs – there really is a DUX bed for everyone.
Join DUXIANA in the support of better sleep by committing to improving your sleep and thus, your overall well-being. Stay in tune with all of DUXIANA's Summer Health Campaign initiatives by connecting on Facebook and Twitter and visiting the DUX blog at http://www.duxiana.us/News-Press/.
About DUXIANA®
Since 1926, DUXIANA has aspired to produce the most comfortable and technologically advanced beds on the market. DUXIANA's handcrafted DUX, The Bed For Life® is sold exclusively in 28 DUXIANA stores across North America and over 100 locations worldwide. With more than 85 years of research on ways to blend the science of sleep with the ultimate in luxury and comfort, DUXIANA remains known for its Advanced Technology in Sleeping. For more information, visit duxiana.com.
Connect with DUXIANA on Facebook at facebook.comTheDUXBed and on Twitter at twitter.com/TheDuxBed.
Media Contact
Jessie Barrett
lotus823
jessieb(at)lotus823(dot)com
732.212.0823