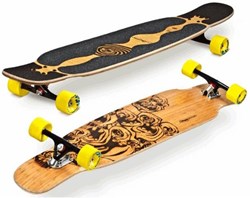 Greenville. SC (PRWEB) June 14, 2013
http://globelongboards.com/ is the best place to find name-brand longboards and gear at discount prices. The company recently announced that they would be adding several new products that are perfect for summer longboarding.
Longboarding is quickly becoming a very popular sport for all ages to enjoy. Quality longboards and gear can be a bit pricey however, and there are few places that offer high quality equipment for reasonable prices. GlobeLongboards.com is a business owned an operated by longboarders, and they make it their everyday goal to provide quality gear for low prices. GlobeLongboards.com also has several tools and tips for new longboarders. Beginners can check out the blog for tips and tricks on how to start longboarding, how to stay safe, and how to learn new tricks quickly. The blog also has some great advice from real longboarders, like how to keep boarding in the winter, how to weatherproof a longboard, and much more.
For summer 2013, GlobeLongboards.com recently released several new items including downhill longboards, several new helmets, and vented slide gloves that keep hands cool in hot weather. It is going to be too good of a summer to stay inside, and GlobeLongboards.com is excited to make as many new longboarders as they can this year. Unlike skateboarding, longboarding is a sport than anyone from any age can enjoy. Anyone in need of some new gear, or who wants to try something new this summer, should head to GlobeLongboards.com and find just the right board.
About GlobeLongboards.com
We at GlobeLongboards.com want to provide everyone with detailed, unbiased reviews of popular longboards and longboarding gear. We are all longboarders ourselves and love to help out beginners and welcome them into the longboarding family. We have reviews, beginner tips, and videos to view on our site. We are also very excited to announce that we will soon be offering new longboards for sale at discount prices on GlobeLongboards.com.