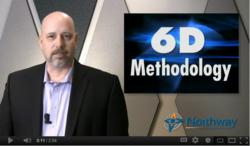 6D was developed to enable the rapid understanding of any enterprise and then to align the tools that are purchased to the organization's processes.
Nashville, TN (PRWEB) July 13, 2012
Northway Solutions is proud to announce the release of its free webinar on the 6D Methodology. 6D is a streamlined methodology for the development of workflow which leverages a standardized set of tools, techniques, and templates for discovering, defining and designing ALM/Quality Center workflow while treating the effort like any other software or package development project. Developed and implemented by a team of seasoned Quality Assurance veterans, 6D was designed to drive consistency and efficiency, resulting in higher quality workflow solutions.
"One of the things we often hear from our clients is that they have different project methodologies, different fields and customizations and they struggle to support and maintain them. Often the administration of those projects are left up to individual teams who customize and configure Quality Center to such a point that it is very difficult for the origination to manage and support. The 6D Methodology solves these problems." says Brian Copeland, Practice Director of Northway Solutions
The 6D methodology is an organized approach to the definition and development of workflow and results in a better understanding of the client's needs. 6D is designed to help the client "visualize" the solution prior to implementation. This methodology provides the organization with the ability to build a very stable and consistent project template that can be used to drive standardization across the organization, thus improving adoption and ensuring the value of the tool is realized in the fastest possible timeframe. This methodology reduces the amount of rework and change requests by delivering the "right" solution the first time.
6D was developed to enable the rapid understanding of any enterprise and then to align the tools that are purchased to the organization's processes. One of the biggest challenges facing organizations is investing heavily into a testing solution only to struggle to obtain "buy in" and penetration into the organization. The 6D methodology assists these organizations by bringing the tool to the process and ultimately having the product implemented their way!
A detailed webinar/video that explains in detail how 6D works is available to view at any time, just visit NorthwaySolutions.com.
About Northway Solutions Group
Northway Solutions Group is a technology solutions provider that provides consulting services around HP's IT Performance Suite of products. As an HP Elite/Specialist software partner, we specialize in the sales, implementation, education and support of HP's Application Lifecycle Management (ALM) platform, which includes Quality Center, Unified Functional Testing, Performance Center, LoadRunner, and Service Virtualization. Northway employs only the most qualified certified consultants and instructors with real-world experience and who can provide long-term solutions to the toughest business challenges.