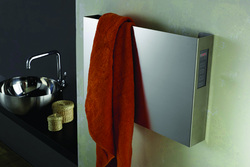 Demand has stayed unusually high because towel warmers provide luxury comfort, but without that luxury-level price tag.
Lakewood, NJ (PRWEB) December 17, 2009
Lakewood, NJ December 17, 2009 -- Though retail sales and home improvement spending has dropped off sharply in the face of the global economic recession, there is still one sector that is heating up this holiday season: towel warmers.
According to Alan Berman, Director of Sales at QualityBath.com, a major seller of premium brand name bath and kitchen fixtures which has reported particularly high sales of towel warmers this year, this uptick is consistent with seasonal trends, but unique to the current economic climate.
"Towel warmers have been selling surprisingly well, even in this economy. Demand has stayed unusually high because towel warmers provide luxury comfort, but without that luxury-level price tag." Says Lercher, owner of QualityBath.com. "For example, the Myson towel warmer line, which accounts for about 70% of our towel warmer sales, features both very affordable electric towel warmers, which are very simple and cost-effective to install, as well as higher end hydronic towel warmers. Both have been selling very, very well."
The curious staying power of towel warmer sales is brought into stark relief when compared to flagging numbers in similar spending categories. As early as June 2009, Bain & Co. predicted that luxury spending would drop by 10 percent for the year, in spite of the historical resilience of the luxury market. Furthermore, the Leading Indicator of Remodeling Activity (LIRA), an index which estimates national homeowner spending on improvements, gave a "bleak" outlook for 2009 due to weak home prices and decreased cost recovery for most remodeling projects. But towel warmers appear to be one expense that consumers are still able to afford.
Google Trends data shows that consumers interest for towel warmers for sale, which consistently spikes to three times or more its normal volume during the holiday season, is continuing this upward trend in 2009. According to the company blog at QualityBath.com, searches for towel warmers by over 250% during the current holiday season, reflecting very strong interest in towel warmers, particularly top brands such as Myson and Amba.
Towel warmers have also been gaining attention as ideal gift items, with numerous gift idea guides featuring towel warmers in their "top unique gift" lists. One prominent article distributed by Canada.com News Service highlighted a stainless steel and glass Thermique towel warmer as a "luxury gift idea" with a listed price of $1,599 (this model sells for $1,299 at QualityBath.com). However, QualityBath.com carries towel warmers at much lower prices with units priced below $200.
QualityBath.com has continued to respond to this growing interest in towel warmers by providing definitive buying guides for holiday shoppers, many of which are buying towel warmers for the first time. Towel warmers were once exclusive to five star resorts and hotel suites. Today, electric towel warmers come in a variety of price ranges and are manufactured to the highest standards of safety and energy conservation (average electric towel warmers consume about as much energy as a light bulb). QualityBath.com's comprehensive towel warmer shopping guides are designed to help consumers choose between the different towel warmer styles, types and installations. You can find them online at the retailer's Web site.
"Customers have responded very well to our informative towel warmer buying guides," says Lercher. "We are excited to help shoppers get the most for their money and choose truly memorable gifts this season, even in spite of the recession."
###