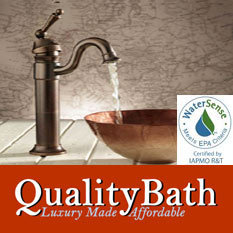 We are always looking for ways to improve our product offerings
Lakewood, NJ (PRWEB) July 29, 2009
In a concerted effort to conserve one of the earth's most endangered resources, QualityBath.com has partnered with the U.S. Environmental Protection Agency's (EPA's) WaterSense program. With less than 1 percent of the global water supply usable and over 100 gallons of water being consumed per day by the average American, conservation of the limited global water supply is at the forefront of concerns for manufacturers, municipal utilities providers and national governments. As a leading retailer of consumer and professional kitchen and bathroom fixtures, QualityBath.com is well positioned to make an impact on water consumption.
"People use our products to access water every day - whether they are rinsing a dish in the kitchen, waking up to a hot shower or washing their hands with our bathroom faucets," says Sara Kugler of QualityBath.com. "It can be easy to take the abundance of water for granted without considering how limited of a resource it is."
QualityBath.com stresses that cutting back on water does not necessitate a change in lifestyle. Many of the retailer's EPA WaterSense products make up for the lower consumption of water with cutting edge technology. For instance, bathroom faucets in the ShowHouse by Moen line feature a 1.5 gpm (gallon per minute) flow rate versus the industry standard of 2.2 gpm. But in spite of using less water, WaterSense products such as Moens' perform equally as well, if not better, than traditional fixtures. Other recognized brands carrying the EPA WaterSense certification in QualityBath.com's collection include Grohe, Danze and American Standard.
EPA WaterSense products are easy to identify by the WaterSense logo featured on every certified product. As part of a voluntary program launched in partnership with the Environmental Protection Agency, EPA WaterSense bathroom faucets meet the criteria set forth by the EPA to be highly water efficient and sustainable for the environment. Installing EPA WaterSense fixtures in the home is an important step towards creating a greener home. Homeowners enjoy lower costs for utilities as well as potential rebates from local governments and agencies for installing high efficiency plumbing fixtures.
"We are always looking for ways to improve our product offerings," adds QualityBath.com's Kugler. "Our expanded range of EPA WaterSense products is a reflection of the value that we - and especially our customers - place on the environment."
QualityBath.com carries the largest selection of premium brand name bathroom, kitchen and lighting fixtures. With 25 years of industry experience, QualityBath.com prides itself on its knowledgeable and experienced sales staff and dedication to providing the highest standard of customer service possible.
###