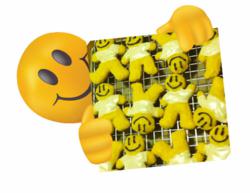 When else do you get rewarded with free promotional items just for baking cookies?
Aurora, IL (PRWEB) July 15, 2011
Quality Logo Products, a leading distributor of promotional products, is excited to announce a continuation to their National Bubba Day promotion. With the success of their promotion last month and the creation of Bubba Sugar Cookies as a result, Quality Logo Products wants to invite everyone to join the fun by baking, taking pictures, and reviewing the recipe online.
To participate and win a prize pack full of QLP merchandise, users must bake their own version of Bubba Sugar Cookies and share their submissions by visiting Quality Logo Products' official Facebook or Twitter pages and uploading their own pictures between July 15, 2011 and August 15, 2011.
In addition, if users review the recipe or add it to their recipe box on http://www.AllRecipes.com, they will receive their choice of an exclusive $30 coupon to be used towards any promotional product available from the Quality Logo Products website, or even better, receive a batch of delicious Bubba Sugar Cookies made by a loyal QLP employee.
For full details and rules about this promotion, please visit the Quality Logo Products promo blog.
"The Bubba cookies were such a hit at the QLP office that we got inspired to share the love with our clients and fans," says Michael Wenger, Vice-President of Quality Logo Products. "When else do you get rewarded with free promotional items just for baking cookies? By the way, I'm hungry!"
About Quality Logo Products:
Quality Logo Products is a prominent distributor of promotional products based in the Midwest. They aid companies, organizations, and brands of all kinds and sizes in placing their logos on more than 25,000 hand-selected promotional items such as personalized stress relievers, custom pens, and tote bags.
###