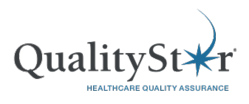 We are focused on the continuous improvement in cancer diagnosis.
Omaha, NE (PRWEB) February 28, 2013
QualityStar will present a new application utilizing whole slide digital imaging (WSI) for anatomic pathology external peer review quality assurance. The presentation will review current quality assurance programs and the application of WSI as a novel approach to gain longitudinal benchmarking data for quality review. Healthcare institutions, pathologists and payers will find the information provided valuable in reviewing their current quality programs and continuous improvement initiatives to reduce error in cancer diagnoses.
Mark Priebe of QualityStar commented, "We are focused on the continuous improvement in cancer diagnosis. We are looking forward to sharing with the Congress our unique quality assurance program for anatomic pathology."
The Cambridge Healthtech Institute's Ninth Annual Biomarkers & Diagnostics World Congress will be held May 6 through May 8, 2013, in Philadelphia, PA.
About Cambridge Healthtech:
Cambridge Healthtech is dedicated to all areas of biomarker research spanning the pharmaceutical and diagnostic pipeline. The May meeting brings together a mix of pharmaceutical, biotech and diagnostics companies, leading universities and clinical research institutions, government and national labs, CROs, emerging companies and tool providers fostering collaborations across industry and academia, to evaluate emerging technologies. The Congress also offers a balance of scientific sessions covering the latest research and strategic presentations, brainstorming sessions for decision makers. It is the leading annual meeting dedicated to biomarker and diagnostics research implementation.
About QualityStar:
QualityStar offers a unique opportunity to the healthcare community by providing a reliable, high-quality alternative to in-house quality assurance for healthcare professionals. With a national network of consultant reviewers to deliver third party quality assurance, QualityStar becomes a partner in the individual's or institution's quality efforts. QualityStar ensures pathologists' and laboratory professionals' work is reviewed based on a quality plan and provides longitudinal and benchmarking reports that go beyond standard peer review.