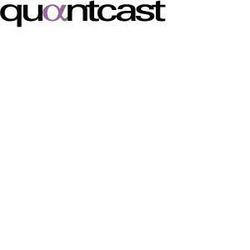 Quantcast brings much needed fairness and accuracy to online audience measurement
San Francisco, CA (Vocus) December 18, 2007 –-
Quantcast, the pioneering open Internet ratings service, today announced that over 20,000 content publisher and social media site participants have adopted the company's "Quantified Publisher" (QP) audience measurement service, representing millions of distinct web destinations. Prior to launch of the QP service, many of these destinations had been limited in their ability to accurately represent the audiences that engage with their content.
"We're thrilled to see adoption gaining momentum, especially by high-profile properties like Digg.com, IDG web sites, and Going.com," said Adam Gerber, Quantcast's CMO. "The marketplace is making a clear statement about the viability of our model and validating the need for enhanced measurement solutions."
Quantcast's QP service is the first Internet rating offering that enables any web property to actively participate in the measurement of its distinct traffic counts and audience characteristics by incorporating Quantcast tags into content experiences. Today, the company's 20,000 QP participants enable direct measurement of traffic generated from 500 million Internet users, nearly 200 million of whom are in the US. Audience characteristics reflecting demographics and content affinities are developed through a proprietary inference model which combines directly measured traffic with other sources data, some of which originates from a sizeable US-based panel.
This hybrid approach enables Quantcast to represent audience profiles for over 20 million unique web destinations, and to provide audience reports for properties, distributed media (video and widgets), and aggregated networks alike.
"Quantcast brings much needed fairness and accuracy to online audience measurement," said Mike Maser, VP of Marketing and Business Development for Digg.com. "To date, online audience measurement has caused confusion in the marketplace. Quantcast's hybrid approach goes a long way to reducing the gross inaccuracies of any single measurement methodology in wide use today."
"As digitally distributed content continues to fragment, and as advertising solutions move to addressable impression-based and direct-to-consumer models, the marketplace will increase its demands for more accurate and flexible audience measurement," Gerber added. "We believe that web destinations desperately want to better characterize unique audiences to support the evolving targeting models the agency buying community is seeking."
IDG Communications, with a stable of vertical consumer and business websites aligned with publications such as PCWorld, MacWorld, and CIO, has also recently adopted the QP program.
"The ability to ensure accurate traffic and audience representation is a critical need for our advertising and sales teams," said Colin Crawford, EVP, Online at IDG Communications, Inc. "The amount of audience data, and flexibility in managing how that information is surfaced publicly made participation a no-risk proposition for us."
Going.com, with local content and social platform offerings in various US cities including New York, Chicago, Los Angeles and San Francisco has adopted the QP program to better position itself with media buyers, who up until now, have been unable to verify the audience profile of its distinct user communities.
"We are relying on Quantcast data to better establish our value proposition to key advertising prospects," said Evan Schumacher, CEO of Going.com. "Rapidly growing sites like ours can be under-reported or misrepresented by panel-based services, and we've found that agencies trust Quantcast data as part of their evaluation process. The QP program levels the playing field and allows us to compete for advertising dollars based on our strengths."
Last month, Quantcast saw over 3 million unique visitors to its site, and served over 10 million audience profile reports. Much of that usage is increasingly being driven by media buyers, who are searching for audience data on a broader set of web properties, in ways that are open and transparent to the market.
Additionally, agencies are beginning to enroll brand marketer sites they are responsible for in the QP program, to validate the size and type of audience being attracted to marketer destinations.
Max Heilbron, Senior Communication Strategist at Goodby, Silverstein & Partners noted, "It's amazing to have visibility beyond raw traffic counts and characterize actual demographic and psychographic characteristics of visitors to our clients' sites. Imagine owning a store and not knowing anything about those who walked in – not understanding if they tended to be young or old, male or female, wealthy or not. That is what it was like with online experiences we created before tagging them with Quantcast."
About Quantcast™ Corporation
Quantcast (http://www.quantcast.com) is the world's first open Internet ratings service. The free service provides ratings on more than 20 million websites and services to help advertisers find the people they seek and help publishers demonstrate the unique value of their audiences.
Through its Quantified Publisher program, Quantcast works with more than 20,000 web publishers to directly measure millions of distinct web destinations, including sites, widgets and videos. As a result, Quantcast's model of web audiences is derived from visits by almost 500 million global Internet users, reflecting 90+ percent of the U.S. Internet market and 35+ percent of the global Internet market.
Quantcast™, Quantified Publisher™, Quantified Media™, Audience Search Engine™, Mass Inference™ and Get Quantified™ are trademarks of Quantcast Corporation in the U.S. and other countries – all rights reserved.
Contact:
Adam Gerber
Quantcast Corporation
646.216.2055
###