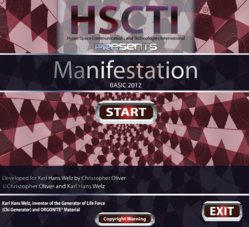 ...a new approach to developing operations based on quantum physics and subconscious temporal experience. This new free expansion was specially developed for our premier Windows 7 compatible radionics software program
Dallas, TX (PRWEB) August 06, 2012
RadionicsBox.com releases the Quantum Radionics Operation Template and Style Package for Super Manifestation Ultimate 2.0 2012. Using an approach developed by Joe NY (A.K.A. "The Researcher") the Quantum Expansion and Style Pack includes specially developed sound files and an example template that users can customize to suit their individual needs. This template system is based off the original 5 position template developed by Karl Welz, however, the "Trend Environment" position has been removed leaving only 4 positions. In addition the "Basic Action" position has been repurposed as a "present state trend" and the "Trend" position now represents the trend set in past tense.
The use of specific sound files is required for these these operations. The Quantum System be used with an orgonite powered Welz Chi generator that includes a sound input jack such as the RAD 2400 HD, Performer 2400HD or LPOG 2400 HD. An audio patch cord is used to connect then input of the Welz Chi Generator to the line output or headphone output of the computer's sound card. The sound is then played at each position driving the internal sound envelope in the chi generator at the specific frequency at the time the chi transfer diagram lands on that specific position. Users that do not have a generator with a sound input should play the sound over speakers, however, it is Joe "The Researcher's" strong recommendation to use a generator with a sound input. If you have questions about which generators are suitable contact us at store(at)radionicsbox(dot)com. All of the needs sound files are included in the free RadionicsBox.com Quantum expansion pack (OPAK) file which can be downloaded from the radionicsbox.com website.
Radionics Master, Mike Devino, says, "The quantum template and system expands the preset library for the Super Manifestation Ultimate 2.0 program with a new approach to developing operations based on quantum physics and subconscious temporal experience. This new free expansion was specially developed for our premier Windows 7 compatible radionics software program.".
Users of Super Manifestation Ultimate 2.0 2012 should visit the Quantum Radionics page to download a free a copy of the Quantum Expansion Pack from RadionicsBox.com.