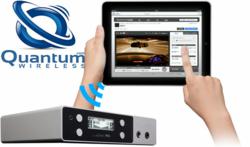 We've combined simplicity with performance to create technology that is accessible and applicable to every person
Las Vegas, NV (PRWEB) January 09, 2013
Quantum Networks (INC 500 #56) and Cerevo Ltd. have reached an agreement granting Quantum Networks exclusive North American distribution rights on Cerevo products. The announcement comes on the Eve of CES 2013, where representatives from both companies will showcase the revolutionary Cerevo LiveShell and unveil the LiveShell PRO.
The deal to bring the LiveShell and LiveShell PRO to North America fills a large gap in the live streaming market, enabling users to stream live HD Video to more video-sharing platforms than ever before by connecting any video camera to the device without a PC.  Although similar products have emerged in the past, the Cerevo LiveShell remains the only competitively priced live streaming device to be compatible with all major platforms, including YouTube Live, UStream, LiveStream, Justin.TV, and also the user's own server. According to Cerevo CEO Takuma Iwasa, "We've combined simplicity with performance to create technology that is accessible and applicable to every person."
Quantum Networks will issue authorized resellers, expanding distribution of Cerevo products through channels including B&H, Amazon.com, NewEgg and Adorama. The device is also available for sale in B&H's New York City brick and mortar location. "We are thrilled to bring this unique device to Quantum," says Jonathan Goldman, President of Quantum Networks. Mr. Goldman explains, "This deal marks Quantum's entry into a new market with extraordinary growth potential. At the same time, the partnership opens distribution channels for Cerevo to a large untapped market; this is the perfect symbiotic partnership."
Quantum Networks will also act as exclusive North American distributor of the LiveShell PRO. With a release date to be announced in the coming weeks, the LiveShell PRO is a high-end streaming device for professional use, operating on the latest compression method called H.264 + AAC. With a rechargeable and replaceable battery and a Dashboard enabling users to control video streaming remotely from iOS and Android devices, users can broadcast live on the web at a bitrate of up to 10Mbps and 720p resolution. The partnership between Quantum Networks and Cerevo enables both professionals and novices alike to join the emerging trend of live streaming.
The LiveShell and LiveShell PRO will be on display at CES 2013 in Las Vegas. The Cerevo Booth is located in the pavilion directly behind the iLounge, booth #52025. Representatives from Cerevo and Quantum Networks will showcase the LiveShell and LiveShell PRO, offering product demonstrations and answering questions.
About Quantum Networks
Quantum Networks is a premier online retailer specializing in next generation wireless technology devices. The company employs a "sales assist" model, whereby our dedicated team of product experts are available to assist customers in making the best purchase for their technology needs. At Quantum Networks, we believe that innovation is power. We don't follow the technology trends—we create them, and as 21st century trailblazers we're dedicated to bringing our customers the freshest, next generation 3G and 4G communication devices around. We cater to the broadest spectrum of technology consumers, from the tech novice to the tech whiz, specializing in product lines ranging from wireless routers to cell phone signal boosters. For more information, visit us online at Quantum-Wireless.com or call us at 1.877.259.4628.
About Cerevo
Cerevo is a 'REVOlutionary Network Consumer Electronics' company based in Tokyo, Japan and founded in April 2007. Our passed product the 'CEREVO CAM live!' was the world's first digital camera with a built-in Ustream live function. Cerevo is not only a hardware company. All of Cerevo's products have a internet connection function, which enables them to receive many values and functions from web services.