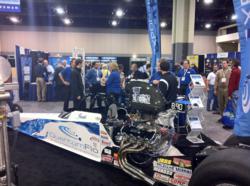 Debary, Florida (PRWEB) November 15, 2012
QuantumFlo, a leading manufacturer of variable speed pump systems, highlighted the 2012 American Society of Plumbing Engineers (ASPE) Convention by showcasing their groundbreaking product line and building valuable relationships with convention attendees.
This year's convention brought success and advancement to the plumbing engineering industry, as professionals from all over made their way to Charlotte for the largest plumbing product tradeshow in the country. QuantumFlo met with some of the best plumbing engineers in the country to discuss the growth of advanced pump technology moving into 2013, an opportunity the company's CEO and President Dave Carrier believed showed a bright future in pump systems.
"We were thrilled to collaborate with so many professionals from the plumbing industry at the ASPE Convention, who all had a vision of working together," Carrier said. "The show was an excellent opportunity to work toward progressing the industry by combining the best ideas and innovations in plumbing and pump technology."
QuantumFlo was one of only 15 companies to take part in the tradeshow's New Product Innovation Showcase, a highlight of some of the most advanced solutions in the plumbing industry. The group showcased their state-of-the-art, energy-efficient iQFlo™ software system that allows for monitoring, predicting and shutdown of water demand.
iQFlo™ was one of two software systems that were highlighted during the showcase, as the cutting-edge technology drew attention from many convention visitors, making it one of the best-attended features of the week's lineup.
---
About QuantumFlo
QuantumFlo is a leader in the manufacturing and distribution of advanced packaged pump systems for commercial plumbing, HVAC, municipal, irrigation and industrial market applications. Our innovative pump technology includes aftermarket applications for the modification, upgrade and retrofit of aging or obsolete pumps systems. Based in Central Florida, QuantumFlo's pre-packaged pump systems are exported to more than 25 countries.
To learn more about QuantumFlo, its products and solutions, please visit http://www.quantumflo.com .