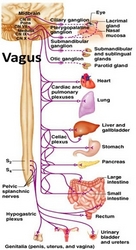 Without doubt, nourishing the brain and Vagus Nerve holds the key to many aspects of maintaining good health
Los Angeles, CA (PRWEB) July 2, 2008
It's becoming increasingly difficult to ignore: something seems to be going seriously wrong with our health these days. Skyrocketing rates of heart disease, cancer, digestive and anxiety disorders, autoimmune-based illnesses, and record levels of childhood asthma, autism, diabetes, ADD and obesity are causing many doctors to worry that human health appears to be literally under siege.
With so many complex nutritional and ecological factors at work, could it be possible to develop a simple, yet effective treatment that addresses many of today's most prevalent health challenges? In fact, for centuries physicians have wondered if there existed a central point of vitality in the human body, a sort of wellness regulator. Now researchers say this "medical Holy Grail" may in fact be the body's Vagus Nerve.
"The reason this approach is revolutionary and so effective is because these nutrient-rich whole food concentrates are created through a proprietary four-stage fermentation process that mimics human digestion. This creates tiny nano-scale super nutrients that bypass normal digestion processes for instant absorption by the cells of the brain and Vagus Nerve," said Dr. Joe Ferrara, a certified nutritionist and president of Quantum Nutritionals, LLC a firm specializing in whole food polar lipid supplements.
Unlike ordinary essential fatty acids, this new class of neuro-nutrients includes a wide spectrum of "polar lipids", which are naturally occurring, fat soluble molecules that pack an uncommonly powerful nutritive punch. According to Dr. Ferrara, among the parts of the human body that may benefit most from neuro-nutrients is the Vagus Nerve, a primordial, multi-pronged system of neuro-transmitters that snake from the brain stem and through various organs in the neck, thorax and abdomen.
Recently, the Vagus Nerve has been the subject of increasingly intense research, and treatments targeting it for epileptic seizures, obesity and clinical depression have already been approved by the U.S. Food and Drug Administration. When functioning properly, doctors say it is an essential element in bolstering the body's natural ability to fight against stress, inflammation and toxins that can trigger illness, which is why medical experts now believe it may hold a powerful key to our wellbeing.
Using new analysis of living cells harvested from this central "power circuit" of the human body, scientists now believe that many of mankind's most vexing illnesses may be treated more effectively than ever before by fortifying the Vagus Nerve.
"The health benefits of using living organisms in dietary supplements specifically tailored to support the optimal function of the Vagus Nerve is simply monumental," said Dr. Ferrara. "Studies by researchers around the world about the importance of the Vagus Nerve to our wellbeing continue to support our own findings that nourishing the body's nerve cells, especially in the Vagus Nerve, has a direct ability to restore the human immune system to peak performance."
Many in the alternative medicine community believe that the important role the Vagus Nerve plays in human physiology has been ignored for far too long. According to practitioners currently using neuro nutrition, supporting the body's innate ability to self-heal and repel illness creates the ideal conditions for optimal health.
"Without doubt, nourishing the brain and Vagus Nerve holds the key to many aspects of maintaining good health," commented Dr. Paul Yanick, author of "Quantum Medicine: A Guide to the New Medicine of the 21st Century", considered by many to be a contemporary classic in the field of alternative health care. "Yet incredibly, its dysfunction is rarely addressed clinically. Fortunately, advances such as neuro nutrition and the new breed of food supplements based on the principles of Quantum Medicine are delivering unique and effective nutritive solutions for health care providers and consumers."
Why the Vagus Nerve Is Central to Human Health: The Vagus Nerve is the longest of twelve pairs that originate in the brain, serving as the brain's central command in the fight against stress, inflammation and toxicity. The Vagus Nerve regulates our "fight or flight" response, digestion, detoxification, various aspects of heart rate and blood pressure and more.
Potential Benefits of Neuro Nutrition on the Vagus Nerve: When we nourish the master health control mechanism in the body, we can expect to see an improvement in all aspects of human health, including digestion, detoxification, immune function and better control of inflammation and stress. This can lead to increased energy, less fatigue, improved absorption of nutrients and enhanced vitality and wellbeing*.
Nourishing the cells of the brain and nervous system also has potential benefits for those suffering from brain or neurological dysfunction, including fibromyalgia, irritable bowel syndrome (IBS), ADD, ADHD, autism spectrum disorders, anxiety, insomnia, memory loss, Parkinson's, Alzheimer's and more*.
"As further studies are conducted on the functions of the Vagus Nerve and polar lipids, we think it will become broadly accepted that using naturally occurring, super food concentrates to nourish cranial nerve function is absolutely essential for good health," Dr. Ferrara added. "To counteract the stresses and toxins we're exposed to on a daily basis, neuro-nutrients are a must for anyone interested in supporting the brain and Vagus Nerve and improving their health."
Dr. Paul Yanick Quantum Medicine Seminar
Harnessing the Power of the Vagus Nerve: How To Achieve Innate Healing By Naturally Restoring Hormone, Immune and Bio-Energetic Reciprocity with Neuro Nutrition
July 25th 10:00 AM to 4:00 PM at The Riviera Hotel, Las Vegas, Nevada
Sponsored by: American Academy of Quantum Medicine and Hydra Beverages, Inc.
Held at the 27th Annual American Naturopathic Medical Association Conference, registration for this seminar provides access to all three days of the conference (July 25, 26 and 27).
For more information or to register, call 1-800-707-1925 or visit: http://www.Quantum-Seminars.com.
About Dr. Paul Yanick
Dr. Paul Yanick, Jr., PhD, N.D., C.Q.M.,is a world renowned expert in Quantum Medicine, author of over 300 articles and books and is the founder and CEO of QuantaFoods, LLC. With seven U.S. patents, numerous scientific awards and 35 years of clinical experience, Dr. Yanick is considered a leading authority in the field of Quantum Medicine and for over fifteen years has had a regular column, Quantum Medicine Update, in the prestigious Townsend Letter for Doctors. Dr. Yanick is a Diplomat of the American Board of Anti-Aging Medicine, a Diplomat & Certified Member of the American Association of Nutritional Consultants, and is Board Certified by the American Naturopathic Medical Accreditation Board.
About Quantum Medicine
Quantum Medicine represents a new paradigm for natural healthcare that addresses the underlying root causes of today's health problems. Its primary focus is to restore innate healing and innate immunological functions by rebuilding and maintaining the functional fabric of nature's polarities within the body.
*These statements have not been evaluated by the food and drug administration. This product is not intended to diagnose, treat, cure or prevent any disease.
###