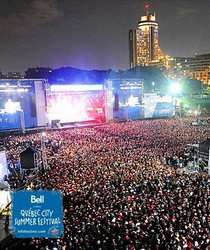 "Experience the world's best performing and street arts promoting French-language song, cultural productions, classic rock giants, and emerging artists. We're here to showcase talent and give people a great time." Daniel Gélinas, Festival General Manager
Quebec City, Quebec (PRWEB) June 4, 2010
French and pop song, rock, hip-hop, jazz, blues, classical music, techno, and world music - the 43rd Québec City Summer Festival features 1000 artists from a wide range of musical genres from July 8-18, 2010 at three main outdoor stages and five major indoor venues. The Festival is presented by Bell in collaboration with Molson Dry.
Festival passes are now on sale online for $50 - taxes included, plus service fees - at Quebec City Summer Festival or by calling 1-877-841-2010. The unique LED "flashing" pass is sold with a smart bracelet containing a microchip valid for the entire Festival. Both items, the pass and the bracelet, are mandatory for admission to the sites and resale of this wristband is strictly forbidden.
Previously announced artists include:
July 9: Metal Legends Iron Maiden on the Plains of Abraham with special guests Dream Theater.
July 11: Roger Hodgson, a gifted composer, songwriter and lyricist and the legendary voice, writer and arranger of most of Supertramp's greatest hits
July 12: Canadian group The Arcade Fire, two-time Grammy Awards
July 13: The Santana Universal Tone Tour 2010 with special guest Steve Winwood
July 15: Legendary Canadian rock band, RUSH
July 16: Six-time Grammy Award-winning, multi-platinum artists The Black Eyed Peas
July 17: Billy Talent rocks their third appearance at the Festival
July 18: German band Rammstein will close the Festival with their first North American mega show.
New artists announced this week:
Outdoor stage 1: The Bell Stage on the Plains of Abraham
The mystery surrounding the Saturday, July 10 time slot is finally solved: singer Lara Fabian, who is currently touring Europe, will give an exclusive show on the Bell Stage. With career album sales topping 12 million and numerous awards to her credit, she'll offer fans some of her greatest hits, along with a few songs from her latest album, Toutes les femmes en moi. This album pays tribute to the women songwriters, composers or singers who have most influenced her life and her music. Toronto pop-lyric discovery, Mark Masri, will open the show.
Québec rap trio Loco Locass will be reconciling politics and partying in a veritable celebration of the people that opens for Gilles Vigneault, who celebrates a career spanning 50 years in the company of his daughter Jessica, Florent Vollant and Les Charbonniers de l'enfer.
Somalia-born rapper, K'Naan, whose "Wavin' Flag" is the official anthem of the 2010 FIFA World Cup, will open for The Black Eyed Peas on July 16, while rockers Vulgaires Machins and Social Distorsion will warm up the fans for BILLY TALENT on the 17th.
Outdoor stage 2: The Molson Dry Stage at the Parc de la Francophonie:
The party will be in full swing on the Molson Dry Stage with reggae by Lucky Uke (for Ukulele!) and Jah & I; hip hop delivered by French bands La Rumeur, L'Algérino and Sinik; rock in all its forms by The Frequency, Dengue Fever, Land of Talk and ElvisPerkins in Dearland, the electro-dub by Thievery Corporation and the Think About Life's electro pop, not to mention the lap-tapping performance by virtuoso guitarist Érik Mongrain. The Molson M Mobile Stage on Grande Allée also has a lineup of shows every day starting at 5 p.m.
Outdoor stage 3: The Metro Stage at Place D'Youville
Yann Perreau, Clio and The Blues Highway, Bernard Adamus, Roxanne de Lafontaine and Opensouls will be sharing the spotlight on the Metro Stage with Hombre, Franz Hoft and JoSH, who join the impressive contingent of world music artists already announced.
Indoor shows, presented by Groupe Voyages Quebec:
L'Impérial de Québec has an original and festive mix lined up with Fred Fortin, Les Breastfeeders, Naive New Beaters, Holy F*ck, Caribou, Buddy McNeil & The Magic Mirrors (rock), Bob Walsh - The Only Soul, Guy Bélanger (blues), Thierry Crommen (jazz), Secret Maker (electro) and Hip Hop Night starring Accrophone, Lmc rar & Lion G, Sozi, Dramatik (Muzion), Set L'Artificier (Fonky Family, Marseille) and by the end, GBH and Jello Biafra (punk). $15 at the door or your pass
Le Largo Resto-Club: This trendy restaurant on Rue Saint-Joseph pursues its double mission of serving up hot Mediterranean cuisine and cool jazz with Rémi Bolduc and the Janis Steprans Quartet, Lonestar, Trio Jean-Pierre Zanella, Chet Doxas Trio with Benoit Charest, James Gelfand Trio, François Bourassa and Jeanne Rochette, Vive la France! with Virginie Hamel and Pho Trio, Normand Deveault and the Kaladja Trio, Wray Downes with the Michel Cote Trio, Rafael Zaldivar, Rémi-Jean Leblanc Quartet. From $15 to $20; for info and reservations: 418 529-3111, http://www.largorestoclub.com
Le Cercle is all electro, featuring: Poirier with Face-T, Cooly G, Bowly Sharivari, Milimetrik, Woodhands, DJ Slipmat, DJ MiM, !VIVA LA DANCE !, Électrique Djs, Division Électro and Le Golden.And, in other genres, Dance Laury Dance, Monograde, The Besnard Lakes, Born Ruffians, Random Recipe (rock), and Movèzerbe (hip hop - reggae). $10 at the door or your pass
Le Pub Saint-Alexandre is an English pub on Rue Saint-Jean featuring Frank Vignola's Quintet, Jordan Officer, Colin Moore, Thierry Crommen, Matt Andersen, Oka, Dehli 2 Dublin, Michael Jerome Browne, Sweet Hollywaiians and Les Cyclones. $5 at the door + your pass
Palais Montcalm: Clar de llunes is a highly original concert-performance combining the fascinating world of soap bubbles with classical music (July 9 and 10 at 8: 30 p.m.). Artist Pep Bou and pianist Jordi Maso, both highly acclaimed in their native Catalonia, are two faces of the same moon that puts its own spin on the universe. As the universe revolves around the moon, the music takes the form of a bubble that creates chromatic sounds as it pops. A unique, dreamlike experience where everything is possible, even if at any moment it can vanish into thin air. Adults: $15, children $5 (taxes included plus service fee) or your pass; info and reservations: 418 641-6040 or 1 877 641-6040.
###