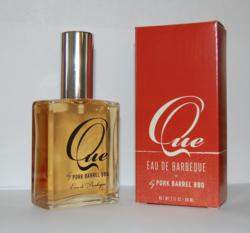 We expect Que will set a new standard for the fragrance and fashion industry. Lady Gaga will no longer have to wear a meat dress to the next big awards ceremony – she can simply wear Que.
Washington, DC (PRWEB) June 06, 2011
CLICK HERE To Watch the Que Commercials
(June 8, 2011) – Pork Barrel BBQ, the nation's fastest growing BBQ sauce company, today announced the debut of Que, an "Eau de Barbecue" and the world's first bottled fragrance blend of barbeques essential aromas. Que, an intoxicating bouquet of spices, smoke, meat, and sweet summer sweat, is the latest development in wearable scents and is quickly becoming a hit among meat lovers, grill masters, and backyard BBQ'ers.
"We are delighted to introduce Que – Pork Barrel BBQ's signature fragrance – featuring a perfect blend of barbeque aromas with a touch of smoke, a hint of meat, a dash of spice, and a light finish of sweet summer sweat," said Heath Hall, President and co-founder of Pork Barrel BBQ. "With Que, anyone can smell like a summer barbeque and share that experience and the wonderful aromas that come with it with everyone around them."
To promote the new product, Pork Barrel BBQ has launched a series of commercials for Que. Viewers can vote for their favorite at http://www.PorkBarrelBBQ.com/que.
"Celebrity fragrances like those from P. Diddy, J. Lo, Britney Spears, Paris Hilton, and Justin Bieber have never captured the spirit of America," said Brett Thompson, CEO and co-founder of Pork Barrel BBQ. "We expect Que will set a new standard for the fragrance and fashion industry throughout the United States and the world. Lady Gaga will no longer have to wear a meat dress to the next big awards ceremony – she can simply wear Que."
Recognizing the absence of a barbeque-scented cologne and perfume, Pork Barrel BBQ worked with a team of craftsmen and fine perfumers to create the perfect barbeque aroma. Until now, no fragrance manufacturer has ever succeeded in bottling the intoxicating scents associated with barbeque and its mixture of spices, smoke and meat.
Pork Barrel BBQ says this first-of-its-kind Eau de Barbeque will change the way men and women interact when they indulge in this specially blended cologne and perfume. Women using Que will become the center of attention of members to the opposite sex. Men who use it will exude the masculine scents that women find irresistible. They also believe Que has the potential to change the fragrance industry for the better by making the everyday smells of outdoor barbequing a unique alternative to more traditional brands.
"With Que, you no longer have to spend hours in the summer heat next to a smoky grill pretending to be a grilling god or goddess," said Hall. "Que offers universal access to the aromatics associated with outdoor barbeques, empowering those who have never touched a Weber, Char-Broil, Lang, Brinkman, or Jambo, to smell like a seasoned pitmaster. In fact, Que's barbeque aromas are so powerful that your family will never know if you used a George Foreman Grill or a Weber Kettle."
"Our new fragrance could be particularly attractive to vegetarians who won't eat barbeque but still appreciate the aromas of barbeque and for those who might be nostalgic for the days when meat was still a part of their diet," Hall said.
The sauce company's co-founders, Heath Hall and Brett Thompson, are recognized as two of the most creative and entrepreneurial minds in barbeque. Since their appearance on ABC's hit reality TV show Shark Tank in 2009, they have expanded their business from creating BBQ sauces and spice rubs in their home kitchens to selling award-winning BBQ products at over 1,300 stores across America including Whole Foods, Safeway and Costco. Their inaugural cookbook, the free Pork Barrel BBQ Guide to Tailgating, received praise from food and sports fans across America, and their sauce was recently named Best Sauce in America and one of "The 125 Best Foods for Men" by Men's Health Magazine.
Entrepreneurs Hall and Thompson recently launched the world's first social network dedicated exclusively to barbecue, http://www.BBQBackyard.com, and the company will soon open its first restaurant in Alexandria, Virginia this summer. They continue to earn support from avid barbecue fans with their top-ranked Pork Barrel BBQ Blog and as the number one most followed BBQ company on twitter (http://www.twitter.com/porkbarrelbbq).
For more information, visit the Pork Barrel BBQ website http://www.porkbarrelbbq.com and read about their latest updates and adventures on Facebook, Twitter and the company's blog.
About Pork Barrel BBQ:
Pork Barrel BBQ was founded in December 2008 during the peak of the economic crisis to prove that a company not owned or operated by the federal government could succeed, and that if you had a good idea, it was still possible to grab a piece of the American Dream. Pork Barrel BBQ founders, Heath Hall and Brett Thompson, ran the company out of the basement of their houses, selling their award winning BBQ products one bottle at a time. In less than one year, their Pork Barrel BBQ Sauces and Spice Rub were carried in over 1,000 stores in 40 states. Throughout their journey, they have stayed true to their mission – to unite the nation through the great tradition of BBQ, and bring bipartisan flavor to your next meal. The Pork Barrel BBQ Competition BBQ Team entered its first contest, The Safeway National Capital Barbecue Battle, in June 2009, and walked away with two trophies – Second Place in the "Nations Best BBQ Sauce Contest" and Fourth Place for their pulled pork in the Memphis In May portion of the contest. Since then, the team has won multiple awards, including the "Chinet People's Choice" award for best BBQ sauce in 2010 and other notable Memphis in May and Kansas City Barbecue Society BBQ competition accolades as well as having their Pork Barrel BBQ Original BBQ Sauce named Best Sauce in America and one of "The 125 Best Foods for Men" by Men's Health Magazine in November 2010. For more information, visit http://www.PorkBarrelBBQ.com or follow Pork Barrel BBQ on Facebook and Twitter.
###