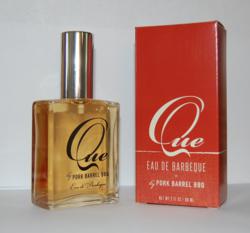 "People have been spicing up their love life by wearing Que and at the same time spicing up their meals with our national award winning BBQ sauces and All-American Spice Rub." - Heath Hall, President of Pork Barrel BBQ
Washington, DC (PRWEB) August 02, 2011
Though some doubted whether Que was a real product, people everywhere are raving about what critics already knew. This summer's hottest new fragrance is Que, the barbecue-scented perfume and cologne by Pork Barrel BBQ – available now at http://www.PorkBarrelBBQ.com.
CLICK HERE To Watch the Que Commercials.
Glamour Magazine asks, "Want to spice up your dating life? How 'bout trying a perfume that smells like BBQ?" Raves The Fashion Spot, "women now have the option of alluring their love interests with a barbecue-scented perfume called Que."
Que is an intoxicating bouquet of spices, smoke, meat, and sweet summer sweat, a wearable scent for men and women that the Washington Business Journal says "takes meat market to new level." "If Lady Gaga can wear a meat bikini," says the St. Louis Post-Dispatch, "then Que just might make sense."
Just as hot as the fragrance are the commercials for Que. Viewers can watch them and vote for their favorite at http://www.PorkBarrelBBQ.com/que.
"The demand for Que and the response from critics and our customers has been overwhelming," said Health Hall, President and co-founder of Pork Barrel BBQ. "All summer long people have been spicing up their love life by wearing Que and at the same time spicing up their meals with our national award winning BBQ sauces and All-American Spice Rub. We're thrilled to offer folks a chance to smell and taste the essence of barbeque through these products."
About Pork Barrel BBQ
Pork Barrel BBQ was founded in December 2008 during the peak of the economic crisis to prove that a company not owned or operated by the federal government could succeed, and that if you had a good idea, it was still possible to grab a piece of the American Dream. Pork Barrel BBQ founders, Heath Hall and Brett Thompson, ran the company out of the basement of their houses, selling their award winning BBQ products one bottle at a time. In less than one year, their Pork Barrel BBQ Sauces and Spice Rub were carried in over 1,000 stores in 40 states. Throughout their journey, they have stayed true to their mission – to unite the nation through the great tradition of BBQ, and bring bipartisan flavor to your next meal. The Pork Barrel BBQ Competition BBQ Team entered its first contest, The Safeway National Capital Barbecue Battle, in June 2009, and walked away with two trophies – Second Place in the "Nations Best BBQ Sauce Contest" and Fourth Place for their pulled pork in the Memphis In May portion of the contest. Since then, the team has won multiple awards, including the 2011 Perdue National Chicken Championship, the 2011 Safeway National Capital Barbecue Battle, the "Chinet People's Choice" award for best BBQ sauce in 2010 and other notable Memphis in May and Kansas City Barbecue Society BBQ competition accolades as well as having their Pork Barrel BBQ Original BBQ Sauce named Best Sauce in America and one of "The 125 Best Foods for Men" by Men's Health Magazine in November 2010. For more information, visit http://www.PorkBarrelBBQ.com or follow Pork Barrel BBQ on Facebook and Twitter.
Smell and Tell: What Others Are Saying About Que:
"Want to spice up your dating life? How 'bout trying a perfume that smells like BBQ?" (Glamour, June 24, 2011)
"A company has now come out with a new perfume that smells like barbeque. I mean, who is this for, women that want to attract Charles Barkley?" (Jay Leno, The Tonight Show with Jay Leno, July 7, 2011)
"Thanks to the company Pork Barrel BBQ, women now have the option of alluring their love interests with a barbecue-scented perfume called Que." (The Fashion Spot, July 4, 2011)
"If Lady Gaga can wear a meat bikini, then Que just might make sense." (St. Louis Post-Dispatch, June 7, 2011)
"Que cologne takes meat market to new level." (Washington Business Journal, June 7, 2011)
"Since the dawn of barbecue, it has been but a dream: a woman wearing the intoxicating fragrance of smoke. Well, 'cue fanatics, your dream is about to come true." (The Washington Post, June 6, 2011)
"We are…happy to report the perfect gift: Barbecue-scented perfume. Or cologne." (LifeInc. blog, Today, June 14, 2011)
"At first, it overwhelms with a deep smokiness reminiscent of iron-bellied, wood-fired grills, then it mellows into a blend of spices with a hint of sweetness." (Roll Call, June 13, 2011)
"Here comes Que cologne and perfume from Washington, DC's Pork Barrel BBQ." (Eater, June 7, 2011)
"In a continuation of their brand, and arguably, a new wave of media attention, the group has formulated Que, a more socially acceptable, but equally questionable take on a manly, food-scented cologne." (FoodBeast.com, June 15, 2011)
###