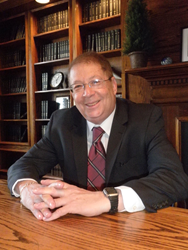 I pride myself on working to help my clients get through difficult family issues as quickly and efficiently as possible
Queens, NY (PRWEB) April 30, 2013
Malcolm S. Babel, attorney, today released his newly redesigned website at http://www.malcolmbabel.com The website features the latest responsive technology which allows the site to configure itself easily to mobile phone users without need of a special low-end mobile site. More importantly, the site contains basic information that individuals would want to know about grounds for divorce, separation, annulment as well as child support and custody in New York state.
"I pride myself on working to help my clients get through difficult family issues as quickly and efficiently as possible," comments Mr. Babel. "Some attorneys are not necessarily concerned in settling matters amicably or speedily for their clients, but I focus on this. The best client is an informed client which is why I have upgraded my online presence."
In alignment with this basic philosophy, the website also promotes Mr. Babel's commitment to client service. He is available directly on his mobile phone to talk to clients and potential clients from 10 am to 10 pm, seven days a week. If he is not immediately available, he will phone back the same day if not within a few hours.
This provides clients with a very personalized service which helps them get through very trying times.
"Malcolm gives you personalized attention most lawyers are just not going to give you. With Malcolm, you're not just a number. He really takes you by the hand like a friend and is very sensitive to your needs." – J.M.
"What I liked best about working with Malcolm Babel is his understanding of ME and how he presented himself. He gave me the "Ins and Outs" and handled my case in the most efficient way. I would recommend him to anyone, without any doubt." – T.M.
For over 40 years, Malcolm Babel has been practicing law. He graduated from NYU Law School in 1967 and received his Masters degree in law in 1968. In 1984, after 16 years with the Legal Aid Society, he started his own practice and now works out of Bayside, Queens and services all of Queens and Nassau County. Today, he exclusively handles family law and has successfully concluded hundreds of family law and matrimonial cases.