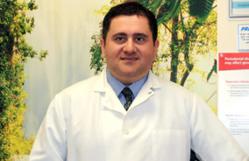 Early detection of oral symptoms is as simple as visiting your local general dentist on a regular basis
Glendale, Queens, NY (PRWEB) October 24, 2011
A gorgeous smile is not the only indicator of good dental hygiene. According to statistics recently published by the Academy of General Dentistry, more than 90% of systemic diseases have oral manifestation. In other words, certain underlying health conditions can exhibit symptoms in your mouth. It's tough to argue with a 90% statistic – visiting your dentist may be your first line of defense in discovering other health issues you may need to address.
"Early detection of oral symptoms is as simple as visiting your local general dentist on a regular basis," says Queens General Dentist Yuri Khasdan, DDS, who specializes in General Dentistry at Atlas Park Dental, P.C. in Queens, New York. "We are able to diagnose serious health issues during regular checkups, helping our patients with their overall health as well as their teeth and gums."
Dr. Khasdan cites cardiovascular health, osteoporosis, and diabetes as just a few of the conditions that a dental checkup can often detect. Consultations at Atlas Park Dental have sometimes resulted in early detection of serious health issues. This earlier detection of issues typically leads to swifter steps toward treatment and recovery, improving the overall experience for the patient.
Oral cancer screenings and periodontal evaluations are included in the dental checkups at Atlas Park Dental. Patients can choose from a variety of appointment times throughout the week, including early evenings and weekends.
"Brushing twice a day and after meals paired with flossing definitely contribute to better oral health," Dr. Khasdan says. "However, there is no replacement for regular dental checkups. Take control of your health and be sure you are seeing your dentist at least twice a year."
Dr. Khasdan reminds patients that visiting the dentist has become more convenient and more comfortable than ever. Appointments can be scheduled by phone or online. Additionally, patients should not be afraid of scheduling or attending an appointment with their local dentist.
"Appointments aren't like they used to be," he adds. "Checkups are a lot less stressful, and thanks to advances in technology, we are able to make dental visits more enjoyable than ever before.
About Yuri Khasdan, DDS:
Dr. Yuri Khasdan is a graduate of the State University of New York at Buffalo School of Dental Medicine. Dr. Khasdan has a strong background in Biology and Chemistry. For more information, please see http://www.atlasparkdental.com/best-dentists-in-queens.htm.
About Atlas Park Dental, P.C.:
Atlas Park Dental is a state-of-the-art dental center located at the Shops at Atlas Park in the heart of Queens, at 80-28 Cooper Avenue, Building 6, Suite 207, Glendale, NY 11385. The office is open seven days a week with some evening appointments available. To make an appointment or to gain more information about Atlas Park Dental, call 718-894-2110 or visit http://www.atlasparkdental.com.
# # #