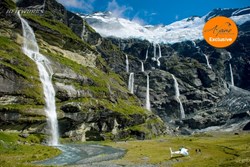 My clients are looking for an adventure they can't do on their own, that takes them to those untouched places that are a little hard to get to.
Queenstown, New Zealand (PRWEB) February 14, 2014
Leading Queenstown helicopter company, Heliworks, and luxury private guiding company, Alpine Adventures, have launched an exclusive soft adventure tour aimed at the growing Queenstown luxury travel market. The new Middle Waterfalls heli-hike tour offers exclusive access to one of the most dramatic locations featured in the blockbuster movie, "The Hobbit: An Unexpected Journey." Heliworks Queenstown Helicopters were contracted by director Peter Jackson for aerial filming and transporting of cast on both his movie trilogies and are the only operators permitted access to the Earnslaw Burn area.
"The trend we're noticing at the moment is more and more demand for unique and exclusive tours in Queenstown. This is what I'm hearing from our clients as well as inbound tour operators. When you combine our exclusive access into an amazing location with one of the most interesting hiking guides around, heli-hiking really becomes an adventure to remember!" said Joey Glass, Sales and Business Development at Heliworks.
"My clients are looking for an adventure they can't do on their own, that takes them to those untouched places that are a little hard to get to. They want to see New Zealand in a way that's memorable and also very authentic," said Mark Dewsbery, head guide and owner of Alpine Adventures.
Dewsbery meets clients at their accommodation in the morning and brings them to the Heliworks hangar where they board a helicopter for their flight across Lake Wakatipu to the start of the the bushline. The 3-mile hike traverses rolling high-country farm and golden tussock fields to a lake at the bottom of a steep valley where a hanging glacier on Mt Earnslaw, known as Earnslaw Burn, looms overhead. The melting glacier sends lines of cascading waterfalls tumbling down a formidable wall of rock to pool on the valley floor.
"Clients are really amazed by the tranquility of this very special location and naturally many want to stay longer," said Glass. Along with flying to Milford Sound, Earnslaw Burn is Heliworks' most popular scenic flight from Queenstown due in part because they are the only operators allowed to land in that valley. The Earnslaw Burn scenic flight includes a quick photo stop at the waterfalls but the new heli-hike is a full-day tour.
The helicopter returns in the afternoon to treat its passengers to a dramatic finale as it ascends steeply along the waterfalls to come face to face with the hanging glacier more than 1000m above before returning over the Richardson Mountains and through Moonlight saddle back to Queenstown.
"Mark's incredible enthusiasm and love of the outdoors, plus his extensive knowledge of the South Island high country, makes him the perfect fit for guiding and telling the stories of this incredible region, which really makes the experience come alive for our clients," said Glass.
Tolkien fans will recognize the scenery from "The Hobbit: An Unexpected Journey" when Bilbo and his company of dwarves depart Rivendell to continue their quest through the fictional Anduin Valley of Middle Earth, which was filmed at Earnslaw Burn with the help of Heliworks. "Everyone is absolutely blown away when we come around the corner and see Earnslaw Burn -- whether they've seen the movie or not," says Dewsbery, who was involved in filming the "Lord of the Rings" trilogy.
"I've spent most of my life out wandering in the hills and it's part of who I am. Now it's very rewarding for me to take those skills and experience and make it possible for other people to also enjoy a special, remote spot like Earnslaw Burn and be there to share it with them," says Dewsbery.
The tour departs for private groups on demand. Departure time and the exact route can be customized. For more information, see http://alpineadventures.co.nz/where-to-go-on-the-south-island/helicopter-tours/.
About Alpine Adventures
Alpine Adventures specialises in customised, privately guided hiking tours in New Zealand's South Island for people who dream big and demand the best. With over 25 years experience in the backcountry, owner Mark Dewsbery offers authentic Kiwi adventures not previously available commercially and personally guides each one, from half day tours to accompanying clients for several weeks. For more information, go to http://alpineadventures.co.nz.
About Heliworks Queenstown Helicopters
Heliworks Queenstown Helicopters 2012 Ltd is an established private company owned and operated by Richard and Carol Hayes and has locations at Queenstown International Airport, a second base at Aoraki Mt Cook Airport and in Te Anau as Southern Lakes Helicopters. They have a proven reputation for excellence and a fleet of modern helicopters, including R44 Raven II and AS350 Squirrel helicopters, to carry out a full range of aerial activities including commercial filming, scenic flights, commercial lifting, long haul supply flights and search and rescue day or night.