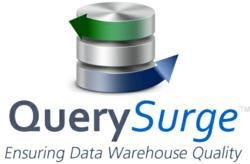 The tool gives users the ability to test 100% of their data, and detect almost any type of data defect before it hits their company's production environment.
New York, NY (PRWEB) September 19, 2012
RTTS, a leading provider of quality assurance software and services for data warehouse projects, will be exhibiting at Oracle OpenWorld 2012 from October 1 – 3 at the Moscone Center in San Francisco, CA. The company will showcase its enterprise data warehouse testing tool, QuerySurge™, which was built to automate data validation throughout the ETL process.
Attendees can find the RTTS team at Booth #3930 in Moscone West. RTTS experts will be available to introduce Oracle business and technology users to QuerySurge, and to discuss how the tool can reduce testing effort by at least 50%.
RTTS' team of test experts developed QuerySurge to address the unique quality assurance and testing requirements of any data warehouse, data migration, data integration, or upgrade project. The tool gives users the ability to test 100% of their data, and detect almost any type of data defect before it hits their company's production environment. QuerySurge was built to validate each piece of data, persisting complete data sets from both Source and Target data sources. This exposes data failures and differences, providing users with the ability to capture and pinpoint failures throughout the ETL development cycle.
Using QuerySurge has helped organizations increase quality and reduce the chance of transitioning bad data by giving teams the tools necessary to maintain SQL queries, run those queries in bulk, follow the results in real-time, collaborate, and report on results. The reporting capabilities in this product enable users to export and share the metrics provided to their teams and to project stakeholders.
QuerySurge supports Oracle database technologies. RTTS is a Gold level member of Oracle PartnerNetwork (OPN).
For more information, visit http://www.querysurge.com or contact RTTS at info(at)rttsweb(dot)com.
About Oracle PartnerNetwork
Oracle PartnerNetwork (OPN) Specialized is the latest version of Oracle's partner program that provides partners with tools to better develop, sell and implement Oracle solutions. OPN Specialized offers resources to train and support specialized knowledge of Oracle products and solutions and has evolved to recognize Oracle's growing product portfolio, partner base and business opportunity. Key to the latest enhancements to OPN is the ability for partners to differentiate through Specializations. Specializations are achieved through competency development, business results, expertise and proven success. To find out more visit http://www.oracle.com/partners.
About RTTS
RTTS is the premier software and services organization that specializes in providing software quality for critical business applications. Headquartered in New York, NY, its expert team has worked closely with over 400 clients to improve their testing processes, tool knowledge, and application deployment outcomes. RTTS was founded in 1996, and has forged partnerships with the world's leading test tool vendors. Its satellite locations are in Philadelphia, Atlanta, and Phoenix, and many of its consulting and education services are offered through the cloud. No matter where you are, RTTS will ensure application functionality, performance, scalability, and security for your organization. To find out more visit http://www.rtts.com.
###
Trademarks
Oracle and Java are registered trademarks of Oracle and/or its affiliates.
Real-Time Technology Solutions, Inc., RTTS, and QuerySurge™ are trademarks and/or service marks of Real-Time Technology Solutions, Inc. in the United States and/or other countries. All other company names, product or service names mentioned in this document may be trademarks of the companies with which they are associated.