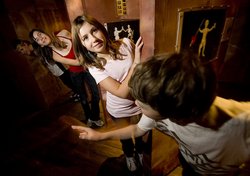 The size, diversity of people, lifestyle, and location of Linköping all seem to fit, but we still must find the right owner and location
Torpshammar, Sweden (Vocus) January 5, 2009
A new kind of business may be coming to Linköping. Boda Borg Europe AB has announced that it is officially looking for a new franchise owner and new location in the city. "We have new owners now, and many things are improving, including our location strategy. Linköping fits our new strategy very well," says Bengt Walther at Boda Borg headquarters in Torpshammar.
A Boda Borg in Linköping would bring a very unique type of entertainment to the area. Some people have described Boda Borg like going to see an action movie, except you don't watch anything…you are actually doing the activities through their special Quests. A Quest is a series of challenges people try to pass through successfully. A new Boda Borg location in Linköping might have as many as 20 - 25 different Quests, each with 2-5 mysterious challenges.
Boda Borg already has 8 locations in Sweden, but with all of these people approached the company about the locations. Linköping has the honor of being the first city that Boda Borg management has actually chosen for expansion. "The size, diversity of people, lifestyle, and location of Linköping all seem to fit, but we still must find the right owner and location" said Walther.
So maybe a new entrepreneur, a few new jobs, and a lot of new excitement will be born in the city very soon.
For more information about Questing visit http://www.bodaborg.com.
About Boda Borg
Boda Borg is a unique gaming concept developed in Sweden called Questing. A Quest is a series of challenges, and teams of people attempt to pass through many different Quests at our locations. It's fast paced, and teams have to think outside the box and cooperate to survive. It is an exhilarating experience only available at a Boda Borg location. Boda Borg Europe is a wholly owned subsidiary of Boda Borg Corporation of Southern California.
###