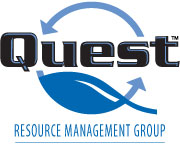 Frisco, TX (PRWEB) January 24, 2013
IEWC announced today, that with the assistance of Quest's sustainability team, its distribution center in Aurora, Ontario--a suburb of Toronto, Canada--is now LEED Certified under the LEED for Commercial Interiors (v3.0) rating system. The LEED rating system, developed by U.S. Green Building Council (USGBC), is the nationally accepted benchmark for the design, construction, and operation of green buildings.
"IEWC Toronto's LEED certification represents our corporation's continued effort to aid in the protection of the environment," said Eric Paszat, President–IEWC Canada. "Through the reduction of waste and more efficient energy usage, IEWC is strongly committed to creating a safer and healthier environment for its employees and surrounding communities."
Through Quest's effort, the IEWC-Toronto warehouse is built to achieve energy savings, reduce water consumption, use materials wisely, and to create a healthy indoor environment for IEWC employees, customer, suppliers, and guests. Their HVAC efficiency, along with high performance lighting, occupancy sensors, and Energy Star rated equipment, will allow them to achieve huge energy savings over the life of the building. Over 85% of electric equipment within IEWC Toronto is Energy Star rated. In addition, lighting power density has been reduced by 21%. With installation of low-flow fixtures, IEWC Toronto reduced potable water use by 42%, saving 4,700 gallons of water annually.
Finally, the project team worked closely with IEWC personnel to create and implement sustainable LEED programs and policies, including educational "Did you know?" signs stating the benefits of green building placed strategically around the space, maximizing audience reach.
Quest Senior Project Manager, Chase Ezell–LEED AP-O+M, shares this in response to the certification, "I would like to personally congratulate the integrated LEED project team in helping achieve LEED Certified for IEWC's Toronto facility. Backed by IEWC's corporate commitment to sustainability, the facility represents a cost-effective workplace with sustainable design features throughout. IEWC Toronto is the second international LEED certification project managed by Quest for IEWC, and we are grateful for the opportunity."
About IEWC – (http://www.iewc.com )
IEWC is the premier provider of global solutions for wire, cable and wire management products to manufacturers and sub-assemblers. IEWC provides its customers with order fulfillment excellence through the strategic positioning of sales centers and distribution centers around the world. The company's dedicated sales teams extend business continuity, service and expertise to its downstream supply chain partners.
About Quest - (http://www.QuestRMG.com)
Quest Resource Management Group is a full service environmental consulting and management company, headquartered in Frisco, Texas. Quest helps Fortune 500 companies to maximize profits and mitigate risks, while minimizing their ecological footprints. Quest clients span across all key industry segments, including food services, hospitality, healthcare, manufacturing, construction, automotive aftermarket and fleet industries. Quest provides North American clients with comprehensive sustainability programs, innovative recycling solutions and proven environmental protection.
Quest prides itself in delivering targeted solutions exclusively tailored to the needs of each respective client. Quest also offers Return on Investment (ROI) and Return on Sustainability (ROS) based road maps to help clients design actionable programs for managing RFPs, defining operational protocols, creating and implementing training programs, and defining best practices. Quest's Sustainability Intelligence™ Dashboard helps clients improve decision making by extracting greater insights through unsurpassed business intelligence.