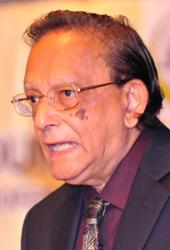 QIUP already prides itself in mentoring our students, and we are planning to offer a degree programme in Counselling by the end of this year.
(PRWEB) February 17, 2012
Quest International University Perak (QIUP) announced today that it plans to set up a national Centre of Excellence to train and upgrade the skills of counsellors.
QIUP Vice-Chancellor and Chief Executive, Academician Professor Emeritus Datuk Dr V.G. Kumar Das who said this, was speaking at the launch of a one-day seminar-cum-workshop on counselling, themed Building Counselling Competencies through Professionalism and Unity.
"QIUP already prides itself in mentoring our students, and we are planning to offer a degree programme in Counselling by the end of this year.
"As a next step, we plan to set up a national Centre of Excellence for Counselling that will play a leading role in training and upgrading the skills of counsellors and support their professional development.
"The Centre will organise various activities such as conferences and workshops, and publish research papers and articles to update professionals in the field," he said.
Prof Kumar Das said having such a Centre was vital to bring about a positive impact on the student community in the country and society at large.
Over 100 school counsellors from throughout Perak are attending the seminar-cum-workshop, which is organised by QIUP in collaboration with the Association of Psychological and Educational Counsellors of Asia (Apeca) and the State Education Department.
"The various sessions will serve to identify and impart special skills which counsellors need to tackle problems students encounter at home among others, and to rehabilitate them (students) of irrational beliefs and behaviours by altering negative thinking, and they need to do this with empathy and congruence.
"This seminar-cum-workshop is also unique in bringing into focus the need for collaboration, cooperation and staying united through networking, sharing of experiences and competencies to remain effective and professional in handling clients," he said.
Prof Kumar Das said participants will also have the opportunity to broaden their horizons as they learn about the different types of counselling and psychotherapy for coping with short term and long term physical and mental problems.
State Exco for Education, Higher Studies, ICT, Human Resource and Science and Technology, Datuk Mohammad Zahir Abdul Khalid who officiated at the event said counselling had become an important aspect of education as students were being exposed to information from various sources such as television and the internet.
"The role of counsellors had evolved tremendously from years ago when they were merely stationed in schools to advise students with disciplinary problems.
"Today, counsellors play a far more important role as they deal with the changing psychosocial trends in society. As such, you have a responsibility to continuously upgrade your skills and knowledge," he said.
Mohammad Zahir praised QIUP's initiative in organising the seminar-cum-workshop and said the State Government welcomed Quest International University's efforts and supported its plans to set up the Centre of Excellence.
Well known trainers in counselling and psychology who will facilitate the sessions include Prof Datuk Dr See Ching Mey, Deputy Vice-Chancellor of University Sains Malaysia (USM) and President of Apeca.
Others are Prof Madya Dr Abdul Rashid Mohamad of USM, and Associate Prof Chandraseagran Suppiah of QIUP, Sheila Menon, the Principal of the London College of Clinical Hypnosis (LCCH) Malaysia, and Prof Myrna Joyce O. Sanchez of the Institute of Formation & Religious Studies, University of the Philippines.
Present at today's event were also faculty members and Datuk S. Veerasingam, the advisor to the Perak Menteri Besar and QIUP University Council Member, R. Magandran. The keynote speech was delivered by Prof Emeritus Datuk Dr Amir Awang, from Insaniah University College, who is a doyen among counsellors in the country.
About QIUP
QUEST INTERNATIONAL UNIVERSITY PERAK (QIUP) is a private and comprehensive research-led University in the State of Perak in Malaysia. QIUP opened its doors to students in April 2011 and currently offers foundation courses in Business and Science and Bachelor's Programs in Business Administration and Computer Science. A full fledged medical program comprising biochemistry, physiology, anatomy, microbiology, pathology and pharmacology is to be launched soon.
QIUP's interim city campus is currently in Ipoh city in Perak. A 250 acre permanent campus based on green principles is currently awaiting planning permissions.The State Government of Perak and the QI Group of Companies have equity participation in the University.
###