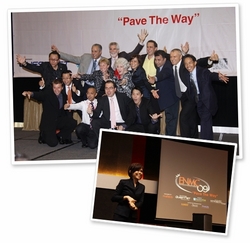 The goal of ENMC was to elevate this industry to a higher level
Singapore (PRWEB) August 18, 2009
QuestNet, an international direct selling company, was the main sponsor of the Elite Network Marketing Conference (ENMC) recently held in Singapore.
In its second year, the ENMC attracts top leaders, opinion makers and powerful speakers from household global direct selling enterprises. This year's conference capitalised on the previous year's successful inaugural event, with the crop of speakers including leading personalities in network marketing, such as QuestNet Executive Chairman Donna Imson, who gave a well-received keynote address on personal change and leadership, and fellow keynote speaker, Tom "Big Al" Schreiter, a reputed international trainer in network marketing and author of six books about recruiting. Also on the speakers bill was Art Jonak, organiser MLM Mastermind Events, MLM cruises and Robert Butwin: Chairman of ENMC; author, 'Street Smart Networking'.
"The goal of ENMC was to elevate this industry to a higher level," said JR Mayer, Managing Director of QuestNet Ltd. "Through this conference, the organisers had a vision of creating a platform where leaders in the industry could get together, share their experiences, impart their knowledge to participants to make them better networkers and better leaders, and more importantly, better professionals," he added.
In the build up to the event, Mr Mayer was interviewed live on radio in Singapore together with the Chairman of the Conference, Robert Butwin and corporate consultant for US direct selling enterprises, Ana Gabriel Mann. Lasting for about an hour, the panel gave insights into the industry and how in today's economic climate, with more and more falling victim to financial misfortune, direct selling had become a viable career for many individuals both during the economic downturn as well as in times of economic growth.
Donna Imson, in her one-hour keynote address to the participants, spoke on the topic, 'The Power of Change'. She stressed the need for constant transformation in one's life, to not just improve as a networker, but also as a person. She talked about the different types of change people go through - conform, reform and transform - and that the most powerful change of all was transformation. She pointed out how this transformation needs to come from within each of us and the importance of having a team of people behind you to help make the change happen. Finally, she spoke with passion about the need to lead with character, ethics and integrity. At the end of her keynote address, the highly appreciative audience gave Ms. Imson a standing ovation.
Other speakers of note included Ana Gabriel Mann, a leader in network marketing for more than a decade from the USA, and industry legend the evergreen Doris Wood, who has been in the industry for more than 50 years and is a lifetime Board Member and President Emeritus of the MLMIA. On the local front was main speaker Patrick Liew, a major influence in shaping the direct selling industry landscape in Singapore, which according to ChannelNewsAsia.com, is directly responsible for over S$470 million worth of yearly income.
About QuestNet
QuestNet is an international direct selling company that utilises the power of network marketing. Established in 1998, the company has a global sales force and offers a high-quality product portfolio consisting of innovative lifestyle products, including consumable and everyday items, personal care and wellness products, luxury and collectible items, vacation packages, and telecommunications.
QuestNet also provides business opportunities to millions of people around the world by offering entrepreneurial aspirants the opportunity to run their own business through an e-commerce platform, to promote the company and its products. QuestNet provides its representatives with the requisite training and business tools to succeed and champions professional business and marketing practices at both corporate and network levels. Driven by the mission of RYTHM (Raise Yourself To Help Mankind), QuestNet is an active contributor to the support and sustainability of the communities in which it operates.
To learn more about QuestNet, visit http://www.quest.net.
Media Contact:
Adrian Pooley
Marketing Communications Manager
QuestNet
Direct: +66 2 2073808
Fax: +66 2 6408225
###