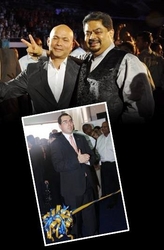 Don't go for the numbers game. It is not all about quantity. It is about quality. Build character. Build relationships. Remember this when you talk to prospects.
Shah Alam, Malaysia (PRWEB) June 6, 2009
As a main player in the direct sales and network marketing industry, QuestNet last week held their annual representative convention at the Malawati Indoor Stadium in Shah Alam, Malaysia. The convention, which has been held up to twice a year since 2001 in various countries, this year attracted a record number of attendees; a significant achievement that made a strong statement about the position and success of the direct selling industry amidst a financially weak global outlook.
The prevailing success of companies such as QuestNet, despite fluctuating trends in other industries, resulted in the company's annual training and exhibition event being a historic gathering of determined entrepreneurs who are bucking the economic trend rather than succumbing to it.
Almost 6000 entrepreneurs attended the convention from more than 40 different nations, from Europe to Africa to Central Asia. The theme of the convention was undoubtedly about 'change', as participants celebrated a new era for both QuestNet and its training and event management partner, The V. Looking to the future of their business, QuestNet's Independent Representatives (IRs) embraced the message of change, recognising that shifting priorities within their business actions and refocussed attention to products were the key areas of change that need to be addressed in order to continue to thrive within the highly competitive industry of direct sales. Upholding the virtues of professional networking was also a frequently discussed area of importance.
In addition to QuestNet IRs, the event was also attended by international business leaders and VIPs, who were invited to partake in the five days of inspirational trainings, shows, in-depth seminars, product trainings, and demonstrations.
The official opening Gala Night on 29 May was among the most spectacular ceremonies in the convention's long history, with an epic cultural performance from the Malaysian Ministry of Arts and Culture, a parade of national flags, inspiring speeches by The V Partners and ambassadors, and fireworks. The Closing Ceremony was just as exhilarating, with a live performance by three of Malaysia's biggest names in music, an outdoor fireworks display, and closing speeches, all of which were attended by many dignitaries, VIPs, and almost 6000 IRs.
New Products
Among the business trainings and seminars, the convention was a platform for the launch of many new lifestyle and nutritional products. Participants were given the opportunity to be among the first to sample and test the latest of several new brands that will available to QuestNet IRs and customers in the coming months. Nutritional products, energised jewellery, accessories and homecare created much excitement and buzz. More details of these exclusive new brands will be officially released by the company in the near future.
Social Networking
Social media debuted at V-Malaysia, with multiple online social networking tools utilised to cover the event for maximum exposure to participants, as well as those who were not able to attend from around the world. Live video streams, immediate updates, interaction with customers and attendees, and other cutting-edge coverage techniques brought an extra dimension to the five-day event. QuestNet's official Facebook page was used to converge the many different online mediums in one place, with all the updates available for viewing and interaction at http://www.facebook.com/pages/QuestNet-Official/83981262329
Speak to Me
Speeches from guest speakers and leaders were the highlight, as networking enterprise leaders provided the inspiration, guidance, mentoring and coaching needed to inspire, motivate, educated and lead both beginner and expert IRs. A powerful speech by QI Group Executive Chairman Dato' Vijay Eswaran invoked passion and enthusiasm in everyone present.
"V-Con is a coming together of the hearts and minds, a chance to break free from a lifetime of bad habits, and make a change," said Dato' Vijay Eswaran, helping to re-affirm the purpose of the V-Convention.
After Dato' Vijay Eswaran's speech, he personally introduced QI Group Managing Director, Mr Joseph Bismark, who spoke of the need for consistent, genuine, long-lasting network building.
"Don't go for the numbers game. It is not all about quantity. It is about quality. Build character. Build relationships. Remember this when you talk to prospects."
QuestNet Managing Director JR Mayer gave a welcomed update from the corporate perspective. Many new enhancements were announced on the e-commerce front, as well as major developments coming to the operational structure of the business. New products were also launched to the captive audience.
"V-Malaysia has provided us with an amazing platform to reach our distributors. This year has seen record-breaking attendance and I am so pleased to have the opportunity to meet with well over 6,000 of our customers and get some of their thoughts on our many new products and services."
He continued, "This year will see us focus on the consumable product lines and the reaction to our new brands has been fantastic with Olé being highlighted for big things by our leaders."
Celebrating successes and discussing QuestNet's professional marketing business were high on the V-Malaysia 2009 agenda. US-based specialist MLM attorney Mr Gerry Nehra, who attended his first convention as a QuestNet Advisory Board member, offered participants the chance to get answers to their most pressing questions and concerns regarding direct selling.
Mr Nehra emphasised, "The future of QuestNet lies in your hands, and that's why you need to conduct your business in a professional manner. You represent QuestNet. What you do and say is important."
Another keynote speaker was financial analyst and Deutsche Bank veteran of 30 years Mr Nico Stein. Also a QuestNet Advisory Board member, Mr Stein addressed the audience about economic trends, industry facts and figures, and the manner in which direct selling companies have a long history of succeeding throughout recessions.
"It does not take a financial expert, an economic analyst, or a business guru to realise the value of direct selling and network marketing at a time of economic crisis. We need only to look at the values that we - as human beings - hold dearest: self-empowerment, freedom, equality, and mutual interdependence. These are the essence of the business that you are in. And this is the time to create a worldwide culture based on these values."
Children are the Future
The children of participating IRs were also given a V-Malaysia experience at V-Kids, held also at the Malawati Indoor Stadium. Children were encouraged to participate in special workshops during the convention, including acting and talent workshops, cooking and baking sessions, and a face-painting workshop. The idea behind these workshops was to promote teamwork and boost the children's creativity in a supportive, safe and fun environment.
About QuestNet Ltd
QuestNet is an international direct selling company and network marketing business established in 1998, that has since become a market innovator and leader in its field. Operating a global sales force, QuestNet offers a high-quality product portfolio consisting of innovative lifestyle products, including consumable and everyday items, personal care and wellness products, luxury and collectible items, vacation packages, and telecommunications.
QuestNet also provides business opportunities to millions of people around the world by offering entrepreneurial aspirants the opportunity to run their own business through an e-commerce platform, to promote the company and its products. QuestNet provides its representatives with the requisite training and business tools to succeed.
For more information, contact QuestNet at their Head Office:
47/F Bank of China Tower,
1 Garden Road,
Central, Hong Kong
Tel: +852 2827 1889
Fax: +852 2827 1833
Website: http://www.quest.net
###