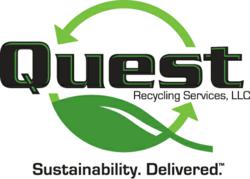 Frisco, TX (PRWEB) October 06, 2011
Brian Dick, CEO of Quest Recycling Services, LLC, was a keynote speaker at the Corporate Recycling and Waste Conference (CRWC), held in Orlando, Florida on September 29, 2011.Mr. Dick introduced Quest's "10 Steps" process, which leads client companies to reduce waste creation and dramatically diminish ecological footprints and operating costs.
Reflecting on the CRWC event, Mr. Dick observed, "Waste and Recycling News along with Republic Services did a great job. They put together a conference that allowed companies large and small to understand how they can reduce the amount of waste they generate and implement meaningful recycling programs." He added, "The conversations were enlightening, the business cases were targeted, and the key objectives were directly applicable."
Quest Recycling is at the forefront of waste minimization, food waste recycling, and waste-to-energy movements. Working with clients in all 50 states and Canada, Quest is directly responsible for the diversion of over 1 billion pounds of waste from landfill in 2010.
"Waste minimization is a rapidly evolving industry," said Mr. Dick during his presentation. "Between changes in regulations, emergence of new technologies and expansion of recycling outlets, what was cost-prohibitive 12 months ago is now cost-neutral. Many companies who considered a food waste recycling program in the past had sticker shock, and could not justify the expense. Today, the costs are significantly more manageable. Quest can help you develop and roll out a program that will effectively reduce operating cost and maximize profits."
About Quest Recycling Services: Quest is one of the nation's fastest growing full-service recycling companies. Headquartered in Frisco, Texas, Quest manages the recycling effort of over 7,500 client locations throughout the US and Canada. Quest customers span from automotive to industrial, fleet, municipalities, hospitality and food service industries. Quest also partners with Earth911 to inform consumers about recycling and local community resources. Learn more at http://www.QuestRecycling.com.
###