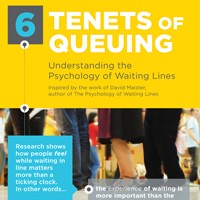 The bottom line is that the experience of waiting is more important than the actual time spent waiting.
Valencia, CA (PRWEB) May 29, 2013
A leading manufacturer of crowd control and queuing solutions, Lavi Industries introduces a new infographic titled, "6 Tenets of Queuing." The infographic features six psychological truths that influence a customer's waiting line experience through visual data, statistics, definitions, solutions, and quick tips. The graphic makes clear how a customer feels while waiting in line can strongly impact business success.
The methods suggested in the infographic for solving common queuing problems are clear-cut and easy to implement, and they are designed to help businesses create shorter lines that move faster, which results in a more peaceful and enjoyable customer experience.
Research has shown that the waiting line has one of the biggest influences on overall customer satisfaction. While a customer's experience throughout a store or business can be positive, if the final impression – impacted by the waiting line – is unfavorable, the lasting impression can quickly turn negative. A lengthy or poorly managed line can cause people to leave their purchases behind, refuse to join the line at all, jump from line to line looking for the "best" line, or take their business elsewhere.
"Ultimately, customers want to be treated fairly, and not feel demoralized or ignored," says Perry Kuklin, Director of Marketing and Business Development at Lavi. "The tenets of queuing outlined in this infographic offer valuable insight into how a customer's mind works, highlighting needs even customers may not be conscious of."
The bottom line is that the experience of waiting is more important than the actual time spent waiting. Abiding by these psychological truths makes it possible to alter a waiting line so that it positively affects both the actual and perceived wait times.
As illustrated in the infographic, occupying customers, getting them started, easing their anxiety, and explaining why the wait is happening are just some of the ways a queue can be better managed to create a more pleasant waiting environment for all customers.
To view the infographic, visit http://www2.lavi.com/tenets-of-queuing.
Bloggers and other writers are encouraged to share and publish the infographic using the embed code provided.
About Lavi Industries
Based in Valencia, California, Lavi Industries is the premier provider of public guidance and crowd control solutions in North America. Leveraging its portfolio of world-class brands – Beltrac® stanchions, Directrac® signage systems, Qtrac® electronic queuing systems, and NeXtrac® in-line merchandising systems – Lavi has helped the world's leading companies effectively guide people in, through, and out of their facilities. More information is available at http://www.lavi.com/.