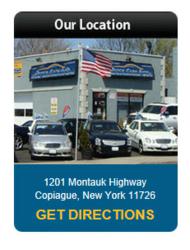 With this additional space Quick Cash Auto can escalate its business model of providing the public with fast cash for their unwanted vehicles
New York, NY (PRWEB) July 25, 2012
Quick Cash Auto Inc. (http://www.quickcashauto.com), located in Copiague, has announced the acquisition of now-retired neighboring dealer Solomita Auto, effectively doubling their capacity and purchasing ability. As an industry leader in the purchasing of pre-owned cars, Quick Cash Auto Inc. prides itself on providing the utmost in customer service and feasibility for consumers looking to get fast cash for unwanted cars. Customers looking to sell a used car, truck, or SUV can anticipate fast, on-the-spot appraisals and the ability to walk off the lot, with cash in hand, the very same day.
Riding the wave of what has been a successful business model Quick Cash Auto has expanded their Copiague location to allow the display of up to eighty (80) vehicles; along the 125-foot long front line of the property located on the corner of Montauk Highway and Hawkins Boulevard. Montauk Highway is an east–west road extending for 95 miles across the southern shore of Long Island. On average, the Long Island's south artery sees an average of 30,000 vehicles per day with traffic volumes exceeding 125,000 vehicles per day on summer weekends.
Brian Keegan, Chief Executive Officer of Quick Cash Auto, pointed out that this new growth serves the bottom line of his business: making things easier for the customer. "For customers of Quick Cash Auto, the bottom line of this expansion is clear; more vehicle storage equals more increased buying ability," he said. "With this additional space to store and sell our vehicles, Quick Cash Auto cannot only continue, but escalate its business model of providing the public with fast cash for their unwanted vehicles so do not hesitate to bring in any make or model for some of the most competitive rates around."
Despite the acquisition and renovation of the former lot taking place approximately one month ago, the newly-expanded Quick Cash Auto lot is already nearly packed to capacity with top-of-the-line pre-owned vehicles of all makes and models, all acquired from its diverse and loyal customer base. "Things move quickly here and we have plenty of turn-over on most inventories within weeks and we're aggressively purchasing on a consistent basis; the new space just makes things a bit easier for our team to move vehicles from one location to another.
Clearly, Quick Cash Auto's adherence to the guiding principles of quality and customer service established by its founder, Brian Keegan, is paying off as the company continues to evolve and grow to better serve the public. "Quick Cash Auto is also a great choice to trade-in your vehicle as our subsidiary Long Island Auto Find (http://www.liautofind.com) is right next door offering plenty of purchasing options for sellers shopping for something new. For buyers who have walked away from their old vehicle through the convenience of Quick Cash Auto, these folks can walk right next door, cash in hand, and finance, good, bad or no credit, their newer vehicle the same day. With hundreds of vehicles to choose from, talk about a one stop shopping experience." he added.
Quick Cash Auto Inc.
As one of the leading used-car purchasers on Long Island, Quick Cash Auto Inc. takes pride in buying quality pre-owned cars, trucks, and SUVs. Residents of Long Island looking to sell their used vehicles quickly and easily as well as beat trade-in offers can expect fast, knowledgeable service, professional quotes, fair prices, and the ability to walk off the same day with cash or credit towards the purchase of a new or used car.
For more information visit: http://www.quickcashauto.com