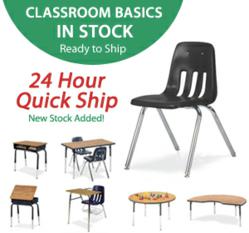 With schools in demand for classroom furniture, Worthington Direct can uniquely shine.
Dallas, Texas (PRWEB) June 04, 2013
Worthington Direct, a supplier of school, office, church, early childhood, and specialty furniture for over 16 years tracks school buying trends and knows that the approaching summer season is its time to shine with on-time school furniture deliveries and signature customer service. To meet their summer goals, Worthington Direct chose to increase their school furniture stock with record high inventories and intentionally focus on quick ship commitments from some of their top manufacturers throughout the year.
Most manufacturers build their stock in preparedness of the summer rush, but many still begin to fall behind as the new school year approaches. With schools in demand for classroom furniture, Worthington Direct can uniquely shine. Before the summer season begins, they bring large truckloads of quality school furniture stock into their own warehouse, in order to ship furniture to schools in last-minute need.
The school furniture that Worthington Direct stocks is predominantly Virco brand, an industry giant that can be found in schools across the United States and beyond. Schools have ordered the popular Navy colored 9000 Series stack chairs for years, but this year Worthington Direct added Black to their stock. Both colors ship in 24 hours after an order is placed.
Many other classroom staples are available with exceptionally fast lead-times. Virco open front desks, lift lid desks and spacious junior executive desks are all available now for immediate shipping. Activity tables by Caprock Furniture are also ready to ship the next day and make great classroom tables or all-purpose tables for the office.
Worthington Direct forged partnerships in the school furniture industry and received firm commitments from several top manufacturers ensuring on-time delivery. Scholar Craft, who produces durable and American made school furniture, is committed to ship select colors of their rugged 120 Series stack chairs, open front school desks, combination chair desks, and adjustable height activity tables in 24 hours after the order is placed with Worthington Direct.
Communication furniture expert, Best-Rite, has their most popular ABC classroom dry erase boards with standard aluminum trim available to ship in 24 hours. Sister company Balt, also has several computer and training tables available to ship as quickly. Schools looking for an economical solution to dividing space and creating temporary classrooms will benefit from the selection of Screenflex portable partitions that are also available to ship in just 24 hours.
Not all school furniture products ship in 24 hours, but Worthington Direct has an entire Quick Ship section online, devoted to promoting those products that have faster lead times. Furniture brands that ship in 3-5 business days include National Public Seating, OFM, Smith System, KFI Seating, and ECR4Kids. Schools are encouraged to order early and contact the Worthington Direct team now to discuss their summer deliveries and for help selecting products that both meet budget and time-frame.
About Worthington Direct:
After spending over 16 years supplying school, church, office and preschool furniture, Worthington Direct knows what is important - selection, service, price and timing.
Our goal is to make your purchasing job easier. With competitive pricing, knowledgeable sales associates, and products with quick, efficient shipping, Worthington Direct is committed to be your furniture resource. Schools and churches look to Worthington Direct for competitive pricing for school furniture, church furniture, preschool furniture, early childhood furniture, library furniture, desks, wholesale furniture, computer furniture, classroom furniture, chalkboards, office furniture, room dividers, storage cabinets, easels, display cases, cafeteria tables, activity tables, classroom desks, computer tables, desk chairs, lecterns, literature racks, office desks and risers among its large stock.
###