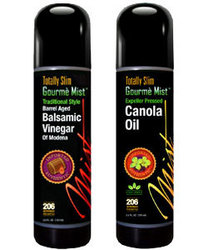 Plantation, FL (PRWEB) October 5, 2008
Quick Weight Loss Centers is thrilled to announce the sale of Gourmè Mist! The newest products in the Quick Weight Loss line feature a patented dispenser, which provides a non-aerosol, continuous mist in an exclusive size convenient for your on-the-go lifestyle. Eliminate thousands of calories every month by "misting" your foods.
Gourmè Mist products allow for easy portion control, by dispensing a controlled portion of fine imported oil or vinegar. Because they create a very fine mist, Gourmè Misters are able to completely coat your food in flavor with a very small amount of oil or vinegar, greatly reducing the number of calories you consume. Just one mist can cover an entire salad; salad dressing "spritzers" often require several sprays to cover the same area, adding unnecessary calories. The patented dispenser creates a continuous mist without alcohol, chemical propellants, or additives, which makes it a healthier choice over aerosol cooking sprays.
Quick Weight Loss Centers offers this specially-sized mister with Canola Oil or Balsamic Vinegar. Gourmè Mist Canola Oil features light and delicate kosher Canadian Canola oil. Very low in saturated fats, Canola Oil is also great for high heat cooking. Gourmè Mist Balsamic Vinegar features barrel-aged Balsamic Vinegar from Modena, Italy. Barrel-aged up to 15 years, its sweet and subtle character is a perfect complement to your favorite salads, fruits, bread and veggies. These products are great for when pouring or dipping simply won't do.
These misters are now available in a small, convenient size that can fit in your purse, giving you this remarkable portion control on-the-go. This smaller-sized dispenser is exclusive to Quick Weight Loss Centers, and can be purchased online along with other weight loss products, or at one of their many South Florida locations.
Since 2001, Quick Weight Loss Centers has been helping people in South Florida lose weight quickly and safely. Quick Weight Loss Center programs are individually supervised for the safest results, and nutritionally designed to develop proper eating habits for long term success.
Quick Weight Loss Centers' unique weight loss program is doctor recommended. Clients lose 3-7 pounds per week eating regular foods. Quick Weight Loss results are guaranteed in writing.
About Quick Weight Loss Centers
Quick Weight Loss Centers was founded in 2001 and, with 14 Quick Weight Loss Centers in Palm Beach, Broward, Miami-Dade and the Treasure Coast, has helped thousands of people in South Florida get to their goal weight. The personalized nutritional, quick weight loss programs provide up to 1,800 calories a day and ensure that members are satisfied while achieving optimum results. Quick Weight Loss Center results can range from 10 pounds to 100 pounds with no amount of weight too small or too large. Schedule a free weight loss consultation online at http://www.quickweightloss.net , or call their toll-free number at 1-877-977-THIN to reach the office nearest you.
# # #