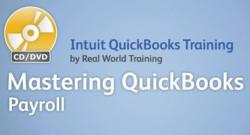 Dallas, TX (PRWEB) May 10, 2012
Real World Training, the country's leading provider of QuickBooks training, has announced the release of its new "Mastering QuickBooks Payroll" CD/DVD . The new product features over 3.5 hours of instruction on using the popular QuickBooks accounting software to manage company payrolls.
"QuickBooks has become the standard accounting software for small businesses," says David O'Brien, President of Real World Training. "We've been teaching people how to use QuickBooks for twenty years now. But payroll is a complex topic that deserves its own class."
Real World Training has been teaching a live, in-person form of "Mastering QuickBooks Payroll" since 2010. The new CD/DVD makes the same instruction available to people who want a self-paced version of the company's training that they can use in their own home or office.
O'Brien says the CD/DVD is appropriate for anyone from absolute beginners to experienced QuickBooks users. "We focus on beginners, helping them gain the confidence they need to use QuickBooks," says O'Brien, "But even experienced users will learn things they didn't know."
Key features of the CD/DVD include:

The top ten payroll mistakes to avoid.
Contractors versus employees (and when to use each).
How to set up employee benefits, such as insurance and reimbursements.
Using E-file to pay taxes electronically.
In addition to the CD/DVD format, "Mastering QuickBooks Payroll" is available in an online, on-demand format. Like the CD/DVD, the on-demand version offers self-paced instruction with the option to retake lessons at any time. "It just avoids the need to have a CD/DVD drive in your computer," says O'Brien.
Real World Training will continue to offer the live, in-person version of the "Mastering QuickBooks Payroll" class as well. The one-day training seminar is held regularly in cities across the US, including upcoming QuickBooks training in Chicago, Los Angeles and Houston.
Real World Training teaches over 30 in-person classes every month, and over a million people have taken one of their QuickBooks courses.
Real Word Training offers the only QuickBooks training endorsed by Intuit, the maker of QuickBooks software. Real World Training's classes have a 99% approval rating and come with a money-back guarantee.
About Real World Training
Real World Training is the world's largest QuickBooks training company and offers the only QuickBooks training endorsed by Intuit, the maker of QuickBooks. Since its founding in 1992, the company has trained over one million people.
For more information, visit Real World Training's website at http://www.QuickBooksTraining.com or call (800) 564-2688.