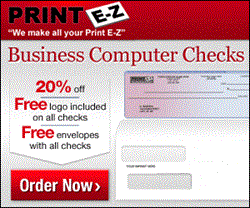 Here at PrintE-Z.com, we present customers with a comprehensive line of computer checks that are compatible with the latest accounting software on the market.
Monroe, NY (PRWEB) July 24, 2012
Print EZ, an expert retailer of computer checks and other essential business forms, is spotlighting new complimentary services customers receive when designing and placing orders for business checks. Available online at http://www.printez.com/quickbooks-checks.html, the merchant is offering consumers a slew of complimentary features when they place a QuickBooks, computer or business check order, including instant previews and free logo inscription, among other benefits.
"Business owners, financial managers, and others who run their own organizations know how quickly technology is altering the way we handle invoicing. It is important that industry products are able to compete with new management systems and programs. Here at PrintEZ.com, we present customers with a comprehensive line of computer checks that are compatible with the latest accounting software on the market. For those who are still transitioning into electronic printing, we also offer binder-bound business checks and other customizable forms," said Morris Rose, CEO of PrintEZ.com.
PrintEZ.com is currently offering shoppers several complimentary features when they place an order on computer checks. When new customers use the priority code 17950 at checkout, they receive free matching envelopes for their checks. Companies are also invited to take advantage of PrintEZ.com's free logo inscription, an effective and streamlined branding method. Furthermore, by utilizing promo code 11950, clients are eligible to receive a free binder when they purchase $100 worth of business checks.
PrintEZ.com offers many check styles to choose from, all backed by enhanced security features and speedy processing. QuickBooks checks orders can be pre-printed to adhere to a company's software set-up, frequently at a price that is up to 70% less than what other suppliers offer. Clients have the ability to pick matching envelopes and deposit slips as well for further convenience.
Computer checks found on PrintEZ.com's website can be used with inkjet, laser, or dot-matrix printers, as specified by clients. The checks can also be inscribed with a business's name, address, account number, and routing number, and can be ordered in two formats: single sheet or triple per page. Most notably, each check is fortified against fraud through physical features like top-quality, 24-pound paper and the on-site high-security methods PrintEZ.com employs when handling sensitive financial information.
Business checks can be ordered in three-to-a-page or one-write sets. Three-to-a-page sets are consecutively numbered, printed on secure paper, and contain a perforated side stub to record notes on expenses. One-write sets mirror basic check books. To ensure that these checks are designed to a company's exact specifications, customers are encouraged to submit their phone numbers so that a Deluxe Design Assistant can get in touch with them directly.
Organizations that are completely lacking in finance-related materials can rely on PrintEZ.com's starter kits. The kits include essentials like computer checks, deposit slips, business envelopes and an endorsement stamp. Quantities range from 250 to 700 checks per package.
Get more information about how Print EZ offers and new launches on QuickBooks checks call the company at 1-888-246-0635.
To read more about Computer Checks, click here http://www.printe-z.com/computer-checks.html.
and get regular updates of new offers and deals here.
Print EZ
4 N Main St.
Monroe, NY 10950
(845) 782-5832