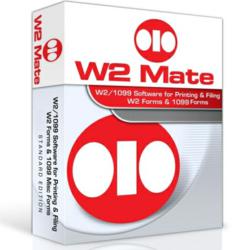 W2 Mate is also useful for filers facing QuickBooks 1099 problems such as 1099 alignment issues and misconfigured 1099 preferences. W2 Mate is also great for QuickBooks 1099 electronic filing.
Chicago, IL (PRWEB) January 16, 2012
Real Business Solutions (http://www.W2Mate.com) reminds QuickBooks users of the 2012 deadline for filing 1099 forms and invites them to try the QuickBooks 1099 import module available in W2 Mate 2011. By using W2 Mate, QuickBooks users can print vendor 1099 forms and report 1099 amounts to the Internal Revenue Service and other government agencies. With W2 Mate, accountants and businesses can process an unlimited number of W2 and 1099 forms on paper or electronically. The software supports more than 14 types of IRS 1099 forms including W-2, 1099-MISC, 1099-INT, 1099-DIV, 1099-R, W-3, 1096, 1099-S, 1098-T, 1098, 1099-A, 1099-B, 1099-C, 1099-PATR and 1099-OID.
W2 Mate is distributed electronically for instant download over the internet. The software can also be shipped on a CD. A free demo version is available at http://www.W2Mate.com/ for evaluation.
Each year, thousands of businesses and accounting firms across the United States trust W2 Mate for high-quality, fast, easy, affordable, and above all reliable 1099 filing. The tax forms generated using W2 Mate are government-approved and comply with SSA publication 1141 (General Rules and Specifications for Substitute Forms W-2 and W-3) and IRS publication 1179 (General Rules and Specifications for Substitute Forms 1096, 1098, 1099, 5498, W-2G, and 1042-S).
"The QuickBooks import wizard that ships with W2 Mate software is one of the most advanced, yet easy to use QB import utilities available in the industry. W2 Mate directly connects to QuickBooks and extracts the information needed to print and electronically file QuickBooks 1099's and W2's. W2 Mate users can remap QuickBooks 1099 data into more than 14 types of IRS forms currently supported by W2 Mate including 1099-MISC, 1099-INT, 1099-B, 1099-DIV, 1099-R, 1099-S, 1098 and 1099-S." says W2 Mate product manager Nancy Walters.
W2 Mate is also ideal for filers looking for QuickBooks 1099 PDF or QuickBooks 1099 E-mail features. The PDF 1099 forms feature available in W2 Mate makes issuing 1099s to recipients as simple as sending email. No forms to print, no envelopes to stuff, no paper cuts, no postage and no headache. Just enter recipient information, generate a PDF file and email. The PDF files generated by the W2 Mate W2 / 1099 compliance system are encrypted and require a password in order to be opened. This makes sending these files by e-mail or any other electronic means more secure. The electronic version of form 1099 generated by W2 Mate contains all required information and complies with applicable IRS procedures relating to substitute statements to recipients.
Using 1099 E-File is secure, easy to use, efficient, fast, flexible and helps save the environment. Any filer of information returns may file their returns electronically. Any corporation, partnership, employer, estate or trust, who files 250 or more 1099 forms for any calendar year must file their Information Returns electronically. However, if you have less than 250, we encourage you to file these returns electronically. W2 Mate complies with IRS Publication 1220- Specifications for Filing Form 1098, 1099, 5498, and W-2G Electronically or Magnetically. W2 Mate also complies with SSA EFW2 format - Specifications for Filing Forms W-2 Electronically).
Give W2 Mate software a test drive and see for yourself how easy QuickBooks 1099 filing can be. Visit W2 Mate software page.
###