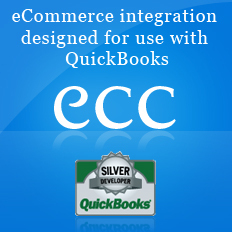 We're excited to receive the QuickBooks certification because it reinforces the quality, reliability and ease of use of eCC
Phoenix, AZ (PRWEB) April 6, 2009
eCC, an ecommerce integration application developed by Webgility has received QuickBooks Silver Certificate after passing rigorous technical review to ensure seamless integration with QuickBooks. In a few simple mouse clicks, eCC downloads online orders into QuickBooks, synchronizes inventory and customers. Using eCC, businesses running an online store can eliminate manual data entry, save time and reduce accounting errors with QuickBooks.
"We're excited to receive the QuickBooks certification because it reinforces the quality, reliability and ease of use of eCC," said Parag Mamnani, CEO Webgility. "In this tough economy, online retailers are looking to cut costs and eCC is an ideal solution to reduce manual effort by automating the QuickBooks integration and Shipping process."
eCC works with a number of ecommerce carts (such as X-cart, Pinnacle Cart, osCommerce, Zen Cart, CRE Loaded, Live Cart, CS Cart, etc.) and the latest versions of QuickBooks. eCC integrates with USPS, UPS WorldShip, Endicia Dazzle, and QuickBooks Shipping Manager to generate shipping labels. For businesses who need offline payment processing, eCC also works with QuickBooks Merchant Service, Authorize.net and PayPal.
"eCC is a tremendous asset to our daily operations," said Jessica A. from DDD USA Inc., a Webgility customer. "This was the missing link between our online shopping cart and QuickBooks. We save a ton of time each day using eCC and can't imagine life without it!"
For additional information on Webgility's Silver Certification status, visit the Intuit Marketplace.
To see an online tour of eCC or download a free trial, visit eCC Free Trial page.
About Webgility: Webgility is a Silver Certified QuickBooks developer with offices in Phoenix, AZ and Indore, India. Webgility develops ecommerce integration applications to enable agile business. The management team has extensive experience and hands-on expertise in developing ecommerce website applications for hundreds of small businesses using various shopping cart applications including X-cart, osCommerce, ZenCart, and Pinnacle Cart.
Contact:
Parag Mamnani, CEO
Webgility,
602-476-2728
###