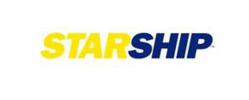 QuickBooks Enterprise and StarShip simplify the QuickBooks order fulfillment process to create a tightly integrated workflow to automate the shipping process, said Caroline Walsh, VP Marketing V-Technologies, LLC.
Cheshire, CT (PRWEB) June 26, 2013
V-Technologies, LLC., a leading provider of integrated shipping software solutions for QuickBooks customers will be demonstrating two new integrations at Scaling New Heights: StarShip for QuickBooks Enterprise and StarShip for Fishbowl, along with traditional ShipGear and StarShip shipping software integrated with QuickBooks Pro, Premier and Enterprise. Scaling New Heights will be held June 23-26, 2013 at the Walt Disney World Resort in Orlando, FL. Scaling New Heights is a QuickBooks training and education conference for QuickBooks Pro Advisors. Over 1000 advisors are expected to attend this year.
StarShip shipping software by V-Technologies, LLC extends the capabilities of QuickBooks by offering automated shipping and providing a cost-effective easy-to-implement solution to capture, verify and process shipments via QuickBooks. StarShip is the latest V-Technologies offering for QuickBooks Enterprise and Fishbowl users. StarShip automates the shipping process by supporting multiple parcel and freight carriers inside one user interface.This all in one approach allows the user to rate shop between carriers to get the best rate. Line-item integration increases efficiency to create international and BOL documentation. Custom emails can also be used to notify customers of tracking information, keeping inbound inquiries down.
ShipGear reduces double entry and invoicing errors by providing a connection between UPS and FedEx carrier software to QuickBooks. This connection bridges the gap between shipping and the front office to automate the shipping process and improve customer service. ShipGear has been available since 2001, and has thousands of customers using it on a daily basis to efficiently ship their product.
V-Technologies is exhibiting at Scaling New Heights and will be demonstrating StarShip and ShipGear shipping software for FishBowl, QuickBooks Pro, QuickBooks Premier and QuickBooks Enterprise in Expo Booth #19.
About V-Technologies:
Founded in 1987, V-Technologies, LLC is a shipping software development company who has developed a selection of shipping software solutions to meet the growing demand for integrated shipping. StarShip™ and ShipGear® are the two flagship shipping software products. V-Technologies, LLC offers shipping software interfaces with Sage Software's Sage 100 ERP (formerly MAS 90 and MAS 200), Sage 500 ERP, Sage 50, Microsoft Dynamics GP, Microsoft Dynamics AX, Microsoft Dynamics NAV, Everest, Exact Macola, QuickBooks, and Counterpoint. Additional information about V-Technologies and its solutions is available at http://vtechnologies.com.