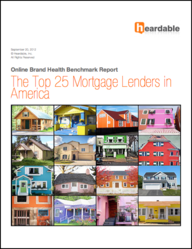 Quicken Loans completely dominates the online mortgage sector
Temecula, CA (PRWEB) September 24, 2012
Today Heardable, Inc., (http://heardable.com), the standard for measuring online brand performance, answers the question: Does building a better digital experience result in a better brand?
Heardable examined 25 brands for our latest online brand health benchmark report, "The Top 25 Mortgage Lenders in America." Quicken Loans's brand health score of 688 out of 1,000 possible points beat its nearest competitor, Bank of America, by 128 points, or 18.60%, and surpassed third place Discover Home Loans by 135 points, or 19.62%. The gap between Quicken Loans and lowest-ranked Fremont Bank Mortgages was 538 points, or 78.20%.
Quicken's brand health score of 688 out of 1,000 possible points was a staggering 99% higher than the average combined score of the 24 other mortgage lenders evaluated in the report.
So how did Quicken Loans rise to the position of category leader? Three areas of competence caught our attention:
1) website optimization (tech, mobile, user experience)
2) breadth of social media participation
3) search engine best practices & optimization
"Quicken Loans completely dominates the online mortgage sector," said John Sharp, co-founder of Heardable. "Their smart use of technology has fundamentally changed consumer expectations for online lender engagement. Home loan competitors take heed."
"Technology has become so critically important to our business," said Quicken Loans CEO Bill Emerson in a recent company blog post. "I think it should become more important to the industry. But it's not just technology alone – it's technology and process. What we've been able to do is take our technology, which has been built internally, and leverage it tremendously in how we handle the mortgage transaction from end-to-end."
The Top 25 Mortgage Lender Brands Online
1. Quicken Loans
2. Bank Of America Home Loans
3. Discover Home Loans
4. Capital One Home Loans
5. HSBC Mortgages
6. U.S. Bank Home Mortgage
7. PennyMac
8. State Farm Bank
9. Wells Fargo Home Mortgage
10. Nationwide Bank Mortgage
11. CitiMortgage
12. AmeriSave
13. CashCall Mortgage
14. PNC Mortgage
15. Citizens Bank Mortgages
16. GMAC Mortgage
17. Chase Mortgage
18. EverBank Mortgages
19. Home Loan Investment Bank
20. SunTrust Mortgage
21. Greenlight Financial
22. Union Bank Home Loans
23. Crestline Funding
24. Provident Funding
25. Fremont Bank Mortgages
The full 267 page research report is available at:
http://heardable-reports.myshopify.com/products/the-top-25-mortgage-lenders-in-america
To learn more about the report, Heardable's methodology or get insights into other brands, contact marketing(at)heardable(dot)com or call 1-888-520-0034.
About Heardable
Heardable is the world's first and only real-time contextual brand analytics platform that measures the online health of brands across hundreds of business categories. With its Growth and Accelerator platform-as-a-service offerings, Heardable helps organizations make smarter, faster business decisions to impact tomorrow's quarterly results. With over 15 million brands profiled and 800 unique online variables capture per brand at various points in time, Heardable's Magic Firehose™ API can be utilized by any business looking for ways to optimize their online performance, boost brand awareness and increase revenue. Heardable, Inc. is a privately held company based in Southern California with an office in Singapore.