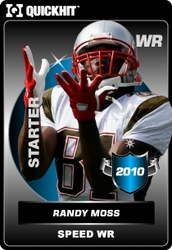 Randy is a record-breaking, all-star wide receiver and after 13 seasons he is still one of the best players in the league
Foxboro, MA (PRWEB) April 22, 2010
Quick Hit, Inc. ("Quick Hit"), a leading developer and publisher of free social sports games, today announced that it has signed stand-out wide receiver, Randy Moss as its first 'Starter' of the 2010 Quick Hit Football season. Moss, who holds the NFL single season touchdown reception record, is the perfect player to lead Quick Hit's team of Starters given his speed and agility – two core elements of Quick Hit Football game play. In addition to his virtual persona in the game, Moss will also be lending his football expertise to Quick Hit as a new member of its Board of Advisors.
"Randy is a record-breaking, all-star wide receiver and after 13 seasons he is still one of the best players in the league," said Jeffrey Anderson, founder and CEO of Quick Hit. "His passion and dedication to the game are two qualities we really admired and felt would be great assets to helping us expand the reach of Quick Hit Football. Having a player of his caliber sets the stage for an exciting year of free, online football."
Moss is a four time All-Pro selection and ranks among the top two wide receivers in history for touchdown receptions (148), receiving yards per game (77.8 ypg) and seasons with more than 1,000 yards receiving (10.). He is famous for his vertical leaps over defenders and incredible one-handed grabs, both trademarks that make him a dangerous weapon in any offense. Quick Hit Football will bring Moss's amazing skills to the gridiron – personified by his speed, acrobatics and tenacity for the game. He will also be a featured player on some of the most challenging Pro Coach teams in the game.
"Quick Hit is a unique opportunity for me to engage with football fans," said Moss. "I'm excited to be one of the first 'Starters' for 2010 and look forward to working with the Quick Hit team in my advisory role with the company."
ABOUT QUICK HIT AND QUICK HIT FOOTBALL
Headquartered in the shadow of the world-famous Gillette Stadium in Foxboro, Massachusetts, Quick Hit, Inc. is developing free online social sports games and entertainment for a global audience. Our games fill a massive void in the sports industry by offering head-to-head competitions that combine a rich graphical experience, the accessibility of Adobe® Flash®, and the wide appeal of fantasy sports. Our first title, Quick Hit Football™, is a free, authentic football coaching game that doesn't require a credit card or install. Its compelling graphics, hard-hitting action and feature-rich game play take online sports games to a new level. Play head-to-head against Pro Coaches like Brian Billick or Jimmy Johnson; take on Pro superstars, including Brian Westbrook and Ray Lewis; or draft Legends onto your team like the famed Barry Sanders, Steve Atwater, James Lofton and Warren Moon. Unlike repetitive twitch-games, Quick Hit Football offers a persistent gaming experience that lets fans build and manage a football dynasty. Play fast, fun, free online football games, earn fantasy points with every game, sign new players, and watch your team grow. Create your team today at http://www.quickhit.com.
Quick Hit, the Quick Hit logo and Quick Hit Football are trademarks or registered trademarks of Quick Hit, Inc. in the U.S. and/or other jurisdictions. Adobe and Flash are either registered trademarks or trademarks of Adobe Systems Incorporated in the U.S. and/or other countries. All other trademarks are the property of their respective owners. Quick Hit and Quick Hit Football are not affiliated with, endorsed or licensed by the National Football League, any National Football League team or the National Football League Players Association.
# # #